Patrick Gale – Ask the author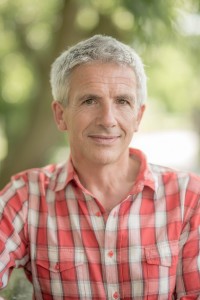 Novelist Patrick Gale is known for his bestsellers set deep in the heart of Cornwall where he lives on a farm with his partner Aiden Hicks. Since his first novel back in 1985 'The Aerodynamics of Pork' he has produced a range of great novels. His latest work, however, is rooted in his own half-told family history. In A Place Called Winter, Gale takes us on a journey from London to a stark Canada of the past.
Your latest novel, A Place Called Winter, was inspired by your own family history and your great grandfather's emigration to Canada. How did you go about researching this?
I was very lucky in that I had an inheritance of letters and documents between my mother and my grandmother and in the middle of all those letters I found this unfinished memoir by my grandmother which tantalised me; it gave the outline of her parent's marriage, before her father, Harry, had gone off to Canada leaving her and her mother behind.
I started out thinking, OK, I'm just going to tell this story because it's a fascinating story and then I realised there was a big gap, lots that wasn't being said, which was when I started injecting my own imagined version of the story into the bare bones of it.
Most of the characters we meet in the English section are real people, they're all my actual ancestors and it only really turns into fiction at the point where (protagonist) Harry gets involved with an actor behind his wife's back.
What would you grandmother make of the book?
I think she'd be appalled! It's funny, I think she'd really enjoy the first section because she loved talking about all her aunts and we get a sense of them. I've tried to be as sensitive as I can in evoking my grandmother's grandmother Mrs Wells, because she comes across in various photos and accounts as a hugely colourful figure who was widowed in her early 40s, having given birth to 12 children, all of whom survived. So I think grandma would have enjoyed that, but I think turning her dad into a secret gay man might have appalled her because she was of a different generation! But I hope at the same time she'd have appreciated my attempt to show just how brave and courageous he must have been, in real life never mind in the story, just to have done what he did, to go out to the Canadian wilderness when he had no training whatsoever of coping on his own and to have carved his own land was an amazing thing to do.
You're using accounts of real people but fictionalising them to an extent. Were you able to see aspects of yourself in the family history that you were creating?
I think that's sort of what happens without me noticing it. As I started to develop Harry's character, to start with I was going just purely by the facts and what I knew about him, which was very little: I knew what he did and where he lived and where his money had come from but I had very little sense of his personality so I think inevitably I started injecting my own personality into him to some extent and once I began that process it became much easier because I was constantly thinking: what would I have done in this situation, how would I have coped? Probably not very well! I think this is something that writers do all the time anyway, we kid ourselves we're making our characters up but actually we have to inject quite a big element of ourselves into them to bright in to life.
You live and write on a farm in West Cornwall – do you have to attend to farm duties before you start writing?
We're not a dairy farm so the need to get up early isn't quite so urgent but I'm an early riser anyway, it really suits me. I tend to get up at half 6 and start the day with a smile. It's very nice having the chance to do practical work around the farm and if a novel isn't going well it's like gardening on a big scale, I can go outside and get some therapeutic work on the cattle.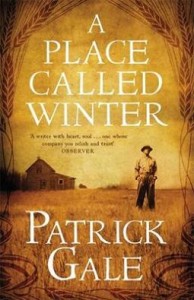 If you weren't a writer what would you like to have done?
Oh, totally different, I think I'd have trained as a psychotherapist. I've always been absolutely fascinated by mental illness and depression and the whole strange cycles that we get ourselves trapped into psychologically and I've had quite a lot of second hand experience of depression and mental illness through friends and relations and I can see how amazing psychotherapy is when it works and it probably presses a lot of buttons as being a novelist – the difference is that my patients are imaginary and so they don't pay me anything! It's always been my dream career in a way.
A Place Called Winter, published by Headline, is out on 26th March, available from all good bookstores.