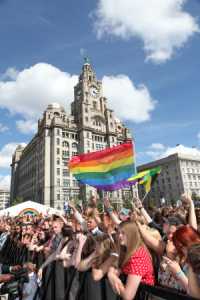 Liverpool Pride organisers are delighted to announce that one of the city's most popular events will return on Saturday, 1st August 2015.
Established in 2010, Liverpool Pride returns for its sixth consecutive year and continues to be one of the city's most visual and flamboyant events of the Summer.
The date always coincides with the anniversary of when murdered gay teenager Michael Causer tragically lost his life. Michael died on 2 August 2008, and the festival was specifically created in his memory as a way to celebrate his life and empower the LGBT communities. This year's Liverpool Pride takes place a week before what would have also been Michael's 26th birthday.
Each year, the Liverpool Pride team invite the public to vote for the year's chosen theme, and previous years these have included Superheroes, Nautical But Nice and Glam Fairytales. The theme with the most votes for 2015 is Love Is No Crime, and festivalgoers are encouraged to go along dressed in their most wild and wonderful interpretations of the theme.
The iconic backdrop of the Pier Head – part of the city's UNESCO World Heritage Site – will be transformed into a colourful festival site bursting with activities for all.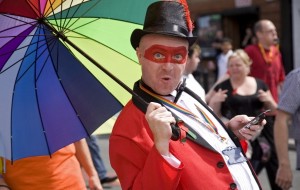 The Pier Head is the prime festival site, and will feature ticketed zones including the main stage and new additions including a dance tent and a 100-seater cinema lorry. There will also be free community zones with entertainment, family activities and speakers. Liverpool Pride will remain a family friendly event with all ages encouraged to attend.
The increasingly popular and poignant Liverpool Pride March remains a major part of the day's activity. The march will make its way through the streets of the city centre in celebratory style.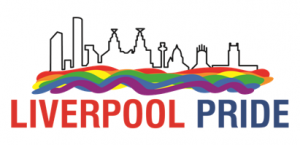 Organisers are again encouraging as many groups, organisations and individuals to participate as possible. The march will also feature guest speakers representing the LGBT communities.
Lucy Day, Chair of Liverpool Pride Charity said: "It is with great excitement that we can announce the date and theme for Liverpool Pride 2015. The event returns for its sixth consecutive year, and it continues to grow in popularity year on year which is extremely encouraging as a way to remember and celebrate Michael's life.
"We are delighted with this year's theme, Love Is No Crime. We have come a long way from the underground era of love, but unfortunately we do live in an age where being LGBT is still illegal in some countries – and this is important to remember. We want to empower our festivalgoers to interpret the theme to create their costumes in a fun and imaginative way.
"We look forward to seeing friends who have become familiar festival faces over the years – but also to welcoming new visitors who will be experiencing the very diverse Liverpool Pride for the very first time."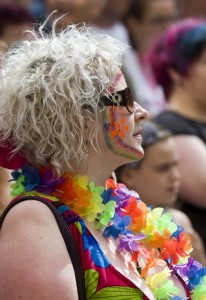 The full line-up of headline acts performing on the Pier Head stage will be announced in the coming months, along with a programme of film and fringe events, and ticket information.
The Out On Stage competition will also continue this year, organised by The Michael Causer Foundation, the unprecedented music prize includes the chance for Liverpool's best unsigned music stars to perform in front of tens of thousands this summer with a headline slot on Liverpool Pride's main stage, amongst others.
Keep up to date with Pride Liverpool announcements by visiting Liverpool Pride where people can also register to volunteer or find out about sponsorship opportunities.
Follow us: Facebook.com/LiverpoolPride Twitter @LiverpoolPride
Images: David Munn/Jeb Smith/Popular image