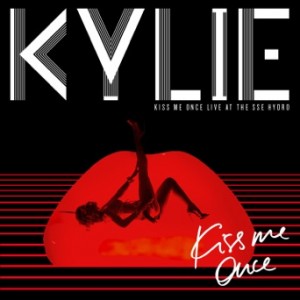 Kylie will release her new concert film Kiss Me Once – Live At The SSE Hydro on 23rd March. Filmed during her highly successful European tour comprising 31 shows in 15 countries, Kiss Me Once is the full spectacular live performance in its entirety.
Watch 'Timebomb' live from Glasgow here:
https://www.youtube.com/watch?feature=player_embedded&v=pnuj1svkH8w
The Kiss Me Once tour featured both new and old material, with a selection of highlights from Kylie's Kiss Me Once album as well as classics including: 'Can't Get You Out Of My Head', 'Slow' and 'I Should Be So Lucky'. Many of these fan favourites are available on live DVD for the first time here.
The DVD also features exclusive content including the full Sleepwalker film that was shown before each performance and features three new tracks by Kylie + Garibay. Sleepwalker sees Kylie in an abstract dreamscape – in the piece Kylie plays several different characters including incarnations of Miss Havisham and Sleeping Beauty. The screen visuals for Chasing Ghosts, Sexercize, Skirt, Can't Get You Out Of My Head, and In Your Arms are also included on the DVD in full.