Gay Pair to row the Atlantic – live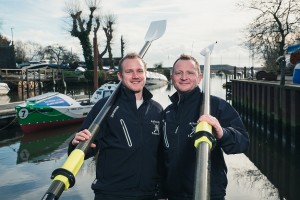 The Atlantic Tempest team is set to share its adventure of a lifetime live with the world.
Nick McCulloch, 39, from Brighton and Tom Parker, 28, from Bristol will be taking part in this year's Talisker Atlantic Challenge – a race to row the Atlantic from La Gomera in the Canary Islands to Antigua.
A world first in ocean rowing, the team has partnered up with Marine Camera Solutions and will be broadcasting live online 24/7, allowing spectators to track every one of their 1,000,000 strokes during their 3,000 mile journey in HD quality. This technology will give supporters the unique opportunity to follow Nick and Tom live with every push and pull as they burn over 20,000 calories a day during their gruelling three months at sea.
Transmitted via satellite technology, four built-in cameras operated by the team back at the base will provide stunning perspectives of the boat as well as infrared night-vision and sound to capture every moment of the journey.
The transatlantic adventurers hope to raise £1million for three outstanding charities. They have teamed up with Sussex Beacon who will use the funds to help educate school children about HIV and support their campaign to fight the stigma of the virus. They are also helping Barnado's to combat child exploitation and aid support workers in protecting children from abuse and manipulation. Finally, the team are supporting Wallace and Gromit's Grand Appeal to enrich and enhance the quality of life for children.
The team is also looking for heroes to help get them to the start line. For just a £20 donation supporters can submit selfies that will appear on the boat and travel across the ocean with them as an Atlantic Tempest Hero.
Nick McCulloch said: "We are incredibly excited and proud to be undertaking this challenge of a lifetime and to be sharing it live with everyone, but we need help.
"We need heroes to allow us to move on to funding these invaluable charities. Help us by donating and sending in a selfie to join us on the boat and keep us company on our gruelling journey."