Housed in stylish interchangeable outer jackets, the speakers deliver an unprecedented 40-hour battery life are immune to water, dust, mud and snow
FUGOO have announced the UK availability of its new Bluetooth wireless speaker line for active music lovers. The new FUGOO speakers combine cutting-edge design and technology to deliver high-fidelity 360 degree audio in stylish, portable and extremely durable designs.
FUGOO uses a unique "Core + Jacket" design that houses advanced audio technology in a robust "core" with an interchangeable outer "jacket." The models currently available are "FUGOO Style," "FUGOO Sport," and "FUGOO Tough," and additional Style jackets in Red, Charcoal and Sand can be purchased separately. The easily-swappable jackets are interchangeable, so customers can update their speaker to keep it looking new or to adapt it to their environment.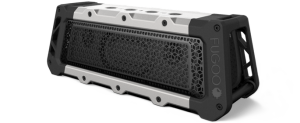 "It's simple really. We looked at everything out there and knew we could do better. Our FUGOO Speakers will go anywhere, play hard, and let you experience your music wherever life takes you," said Gary Elsasser, CEO, FUGOO.
360 Degree Sound
FUGOO speakers deliver full-range 360 degree audio, even in a portable speaker. With two tweeters, two mid/woofers, and two passive radiators, they deliver stellar audio. Six drivers are strategically placed on all four sides to deliver rich, full bass, solid midrange and crisp and distinct highs. An upward tilt projects music toward listeners' ears, allowing everyone to hear the music perfectly. The exceptionally crisp and clear audio reaches up to 95 decibels SPL-A at 0.5 meters and has a full range frequency response of 60Hz-20KHz.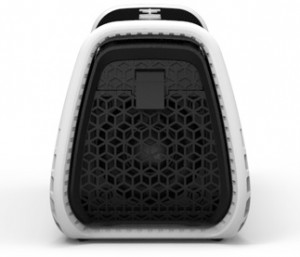 FUGOO delivers the latest audio advances to dynamically adjust the bass, mid-range and highs to provide optimum sound quality for every volume and environment. Plus, unlike most other Bluetooth wireless speakers, FUGOO keeps the signal completely digital all the way through the amplifier, so there is no interference from cell phones or other radio sources to spoil the beautiful audio reproduction.
All FUGOO speakers are full-duplex capable and can be used as a speakerphone. Sound is clear with the omni-directional microphone with echo cancellation and background noise reduction.
Stylish Design Meets Durability
The FUGOO speakers' "Core + Jacket" design not only makes the speaker look great, it enhances the durability and sound quality. The new speakers use specially reinforced case materials that are integrated with co-moulded seals and shock absorbers to protect internal technology and deliver first-rate reliability. The resilient end caps absorb impact on all eight corners, so the speakers can endure life's bumps and drops. The co-moulded seals create an airtight design that enhances audio quality while also protecting the speakers from the elements such as water (up to 3 feet), snow, dust, sand and anything else that it comes up against[i]. Dirty speakers can even be safely rinsed off. As a result, they can be enjoyed virtually anywhere – mountain-biking, paddle-boarding, hiking, by the pool, or on the job site.
All FUGOO speakers feature a distinctive, ergonomic shape that fits nicely in one hand, with no hard or sharp edges. Weighing just 15.6 to 18.3 ounces, all models are lightweight[ii] and portable, and music can be streamed from any Bluetooth- or headphone jack-equipped smartphone, tablet, MP3 player or PC.
Accessorise It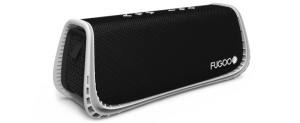 FUGOO's useful accessories make the speakers easy to enjoy even in the most unlikely places. With the bike mount, strap mount and multi-mount accessories, the Sport and Tough versions can be attached to nearly anything – from a bar on a bike, boat or kayak, to the nearest tree, basketball pole or backpack.
The unique Wearable Bluetooth Smart Remote Control pairs with the speakers for control from a distance. The remote is fully waterproof and can be strapped to a wrist or worn as a lanyard so music can be controlled from the middle of the pool keeping a phone or tablet from getting wet or too hot. Flip the wireless remote over to find a handy bottle opener. The remote can also interact with Apple Siri and Android Google Now voice control services to call someone or check the latest sports scores.
Up to 40-hours of Battery Life
Customers will enjoy music for days – even weeks, depending on daily usage – without having to recharge. The FUGOO Bluetooth speaker line has an unprecedented 40-hours of battery life[iii]. The speakers fully charge in only 3.5 hours via a micro-USB charger that can also fast-charge other high-end electronics devices like tablets.
Price and Availability
The FUGOO Bluetooth speaker line will be available this month at Fugoo at prices starting from £149.99 for the FUGOO Style, £179.99 for FUGOO Sport and £199.99 for FUGOO Tough.