Embrace Your Inner Gay Geek!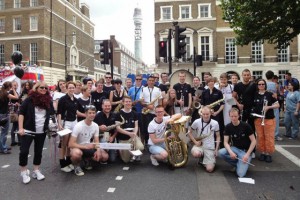 The London Gay Symphonic Winds (LGSW) is calling upon the LGBT community to embrace their inner geek on 18th April at its upcoming concert!
Celebrating its 10th year, the LGSW will be showcasing some of the best geeky music that will appeal to whatever gay geek you are!
Gay gamer geeks can look forward to the themes from Super Mario Bros, World of Warcraft, Halo, Civilization IV and Kingdom Hearts. Gay sci-fi lovers can geek out to Star Trek, Game of Thrones, Doctor Who, and 2001: A Space Odyssey!
Even those with more moderate geekery can release their inner Disney geek with Frozen, and a Night on Bald Mountain; and band geeks can 'geekgasm' to a wind band classic, The Year of the Dragon by Phillip Sparke!

Erik Tomlin, Chair of the LGSW, said: "We have a truly exciting line up of music that every type of geek can recognise, so it really is a concert not to be missed!
"Not sure what type of geek you are? Well, we can help with that too! We've even set up a BuzzFeed quiz so you can work out what part of our programme you'll surely love! Try it now!
"If you've geek through and through, we welcome you to dress up in your favourite geeky costume – and you might be lucky and see the band dressed up too!"
The LGSW GEEK Concert takes place at 7.30pm on Saturday 18th April 2015, at St Sepulchre-without-Newgate, Holborn Viaduct, London EC1A 2DQ. Tickets are £8 in advance from lgsw.org.uk, or £10 on the door (£8 on the door for those in geek costume!)