Travel – Paris with Kids!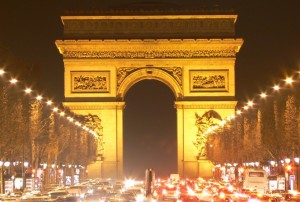 Paris is great for gay people. Paris is great for kids. Paris is thus doubly great for the increasing number of gay families with kids. Adrian Gillan takes his little offshoot.
 We'd practiced on Disneyland Paris a couple of times. But were we ready for the real thing?
GETTING THERE ON EUROSTAR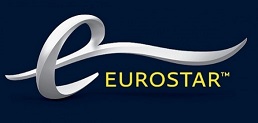 And there's obviously no faster, greener or easier way of getting here than via Eurostar, taking you plus child – plus your generously proportioned baggage, with no liquid restrictions – from the centre of London direct to the centre of Paris, and your hotel, is just over two hours! Children aged between 4 and 11 have lower fares, infants and toddlers under 4 travelling for free if seated on an adult lap; and there are even special family-friendly coaches with baby-changing facilities for the very young. Whilst en route you can entertain your kid or kids with some fun Eurostar facts, such as: each Eurostar train weighs 800 tonnes and is 400m long – that's 90m longer than the Shard is tall! – and can carry twice as many people as a Boeing 747! What is more, just showing your Eurostar ticket also grants 2-for-1 entry into some of the French capital's most popular museums and galleries!
STAY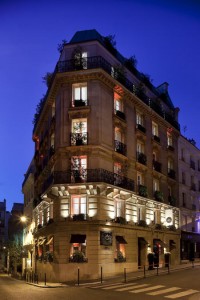 Gay-wooing (TAG-approved) and child-friendly, the eco-committed MonHotel (1 rue d'Argentine, 75116 Paris, France; T: +33 1 45 02 76 76;) resides in a large Parisian townhouse on a quiet street just around the corner from the Arc de Triomphe – displaying an elegant blend of classic architecture on the outside, and rich contemporary design (by Aurélia Santoni) on the inside. From the moment you enter, the d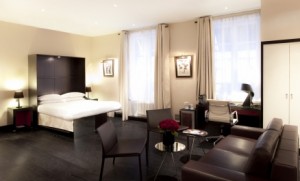 edicated multilingual staff at the 24-hour reception do their utmost to make you and your offspring feel really special. This 4-star boutique affair boasts 37 stylish and spacious air-conditioned guest rooms in a range of categories – premium, superior, deluxe balcony, executive and family junior suites – all with street views, large beds, rich fabrics, free Wi-Fi, mini bars, marble bathrooms and flat screen TVs.
After a full day's sight-seeing, you can unwind in the steamy hammam; row, run or stretch in the neat little gym; or pamper yourselves with something off the massage or treatment menu, at the hotel's gorgeous MonSpa. Then, time for an aperitif, or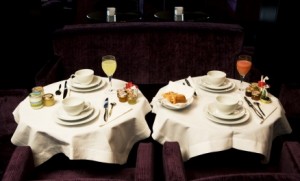 juice for the nipper, in the cosy lounge; before a bite to eat at the dark, atmospheric and chic in-house Le Daniel's restaurant and bar, offering Euro-Asian fusion cuisine, from tapas to larger plates, plus fine wines and well-mixed cocktails. This eatery is also where you can start your day, with a sumptuous breakfast buffet of sweet and savoury dishes, including fresh juices, fruit, eggs, meats, cheese, yogurt, croissants, pastries and the like. In gist: amazingly central location, gorgeously creative design, and highly professional yet wonderfully friendly staff! An absolute stunner!
GADDING ABOUT TOWN
The great-value Paris Visite travel card (1/2/3/5-Day, Zones 1-3 or 1-5) offers unlimited, unrestricted trips on the city's public transport, including the fun Montmartre funicular, and the metro is free for under 4s.
The frequent Batobus (1-Day – 15€ adult, 7€ under 16s) riverboat is also a wonderful way to see the city – from the River Seine – via its 8 stops, from the Eiffel Tower to the Musée d'Orsay and Notre Dame.
 TOP TEN THINGS TO DO WITH KIDS IN PARIS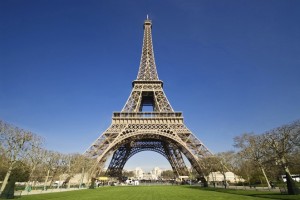 Eiffel Tower – built in 1889 and still going strong, this remains the tallest structure (324m) in Paris, and the most-visited paid monument in the world. Awesome ascent; jaw-dropping views!
Notre-Dame – the young'ns will obviously also all know this, from Hunchback of Notre Dame!
Arc de Triomphe – perhaps tame post-Eiffel but gives a great feel for the grand design and geometry of Paris, gazing up the Champs-Élysées!
Seine river trip – see Batobus (above).
Montmartre Funicular to Sacré-Coeur – easy, no-moans way to ascend the "holy hill" for great views back southwards across the city. Included in Paris Visite travel card (see above).
Musée du Louvre – not the whole thing! Just pop in to give the Mona Lisa a quick smile. You can even dodge the worst queue with a Paris Museum card (see below).
Tour Montparnasse – just south of centre, this more modern high-rise gives alternative aerial vistas to the Eiffel.
Centre Pompidou – tube-clad art house, with fun "external" escalators for nice views.
Bois de Boulogne – expansive, leafy park out west, including its Jardin d'Acclimatation (zoo, fun fair, playground).
Disneyland Paris – if staying for a few days, why not enjoy a day trip to Disneyland Paris. Catch a local train straight to Marne-la-Vallée from the centre of Paris (Chatelet-les-Halles). Eurostar also runs a direct service to Disneyland Paris if you prefer to start there, or finish your trip there before heading back to London.
If any time (or energy) left after all that, some children might also enjoy the more gruesome aspects of revolutionary hub, La Conciergerie; followed by a stroll along the Quai de Louvre and/or through the Jardin des Tuileries to the Place de la Concorde; before crossing the Pont de la Concorde onto the Left Bank to see Napoleon's Tomb in Les Invalides, and the excellent adjoining Musée de l'Armée.
SCENE
Of course, you're unlikely to sneak your sprog past the bouncers at the clubs, and – even where its licence permits it – a café, bar or pub can be a bit of a bore in a child's bigger scheme!
That said, everyone loves a party, and few parties are bigger than Paris Pride (Saturday 27 June 2015), which includes some family-friendly events.
EAT
L'Amazonial (3 rue Ste-Opportune;) is a huge gay-frequented restaurant with great food and flamboyant service. Wide menu too – lots of stuff for the kids!
 Eurostar operates up to 18 daily services from London St Pancras International to Paris, with standard return fares from just £69 (from just £49 for a child). Children under 4-years-old travel free (not allocated a seat). For extra room and comfort plus a light meal, adult Standard Premier fares start from just £189 return. Fastest London-Paris journey time is 2hr 15 minutes.