The Boys of Bridgend are back, baring all and bigger than ever!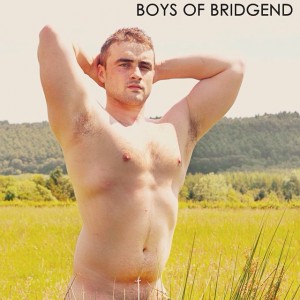 Boys of Bridgend burst onto the scene in 2014 with their debut calendar raising funds for the Everyman Appeal to help fight the battle against testicular and prostate cancer. After selling in over 35 countries around the world, with sales of the calendar still ongoing, the boys are now back in the studio working on their brand new calendar for 2016 and we can exclusively reveal the brand new charity that will benefit from this year's sales.
"We're really excited about working with this charity," said Boys of Bridgend creator and photographer, Russ Hughes. "We wanted to make the new calendar as interactive as possible and really get to know the people who have been supporting us and to find out their views and thoughts, so when we asked people on Twitter and Facebook for ideas about who they wanted to see us support this year there was one name that came up over and over again, and that's the Ben Cohen Standup Foundation to tackle bullying and homophobia. It's a cause that really resonates with both our supporters and members of the team and the work they are doing, especially within the LGBT community is amazing. Support for us last year was overwhelming from all corners but it was the LGBT community who really got behind us and made us grow, so it's fantastic that we can come full circle with this year's calendar and give our support back to them by raising money for this cause."
And it seems that it is a cause that hits home on a personal level for members of the Boys Of Bridgend as well. New recruit, Dan, who is joining the Boys of Bridgend for the first time this year, was full of praise for the cause.
"We didn't have anything in place like this when I was younger. I was teased for being 'different' and became isolated because I was scared of not being accepted. It was easier to keep quiet, but it didn't make me happier. Youngsters are too often told to fit the norm and not to stand out or be different, so it's great that organisations like the Standup Foundation are working so hard to tell youngsters that it's ok to be different and that they don't have to hide or feel scared or ashamed, and hopefully it will educate the tormentors into realising that we're all the same, despite our differences. We should all strive for equality. Knowing that this year's Boys of Bridgend calendar will have a hand in that meant that signing up to take part was a no-brainer for me."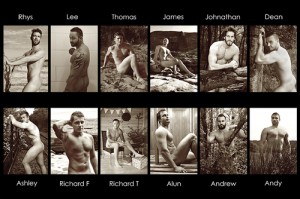 So what exactly have the Boys of Bridgend got planned for us in their second annual calendar?
"Oh, it's going to be huge," teased Russ. "When we started we didn't think it would take off in the way it did. We thought it would be a little local calendar that would sell a couple of copies and help a worthy cause, but it went mad, so this year we are determined to make it even bigger. We've set up Facebook, Twitter and Instagram accounts so that we can really get in amongst the supporters to chat with them and give them some exclusive content, too. We've got a mix of new and returning guys this year but we've upped our game and now have 15 men featuring this year, so the pages will be fit to bursting, and we've also been filming the shoots to bring a video element to people as well. It's one thing that people asked for over and over last year, so we're going to make sure they aren't disappointed. We've also just signed a deal to bring a small range of clothing and accessories out as well. We really are aiming big and hoping to raise huge numbers for the Standup Foundation"
For now, the identity of the 15 men participating in this year's calendar are being kept firmly under wraps, but they have teased us with a new image to keep us going until the big reveal. The boys have also set up their first ever crowdfunding project and would love for people to get involved and back the project which will help cover the printing costs of the calendar.
To support the campaign you can check out their Crowdfunder page at: