Travel – Nearer to Nendaz!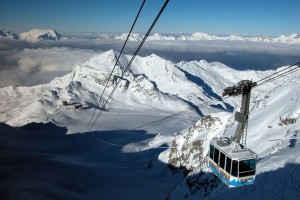 Stunning Alpine scenery plus skiing, spas and sexy guys! Adrian Gillan is far from neutral about the snowy glories of Nendaz, rising star of the 4 Vallées of the Valais canton, just next to Verbier!
Just two hours by amazing Swiss rail from Geneva airport, along the north bank of mighty Lake Geneva, followed by a short road transfer from Sion, and you're in little Nendaz (population 6,000) – a clutch of villages just off the banks of the Rhone, in the centre of the French-speaking Valais canton, in south west Switzerland. Nendaz is part of Les 4 Vallées, a ski area that also covers the resorts of Verbier, Veysonnaz, Thyon and La Tzoumaz, forming one of the largest linked ski areas in Europe, with over 90 cable installations and over 400 km of slopes and ski routes – about half of which are of at least medium difficulty. Dominating the region, Mont Fort (3330m) offers views of other surrounding peaks, including the Matterhorn and Mont Blanc.
STAY & EAT
If you are a group of up to a dozen people, you'd be crazy not to stay at stunning Chalet Etoiles de Montagne (Chaèdo 988, 1997 Haute Nendaz; T: 0041 79 104 12 31;), the architect-deigned well-nigh-brand-new boutique chalet in Haute Nendaz. Scarce five minutes' walk from the village facilities and piste gondola, yet a quiet haven where you can chill and be pampered! You might never venture inside a mere hotel again! Beautiful, knowledgeable, multilingual hands-on owner-managers Andy and Lucy and their team spoil you with loads of little personalised surprise luxuries and masses of home comforts, including a generous all-inclusive schnapps-packed drinks cabinet; whilst your very own in-house gourmet chef Geoff cooks up culinary treats in the vast kitchen – from your eggs-to-order breakfast, through coffee and fresh cakes in the afternoon, to top-notch dinners and accompanying fine wines tailored to tingle your tastes.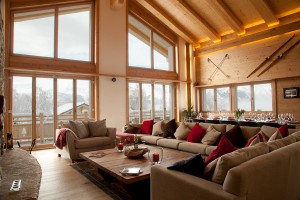 At the heart of the chalet is the spacious, light and airy double-height living and dining area, offering a roaring fire in winter, or a cooling terrace come summer. The chalet's six bedrooms all boast king size beds, plus television, a free online movie selection and strong Wi-Fi, and most have their own balcony. You'll love the bathrooms too, especially the showers! Feel free to bunker down on the sofa in the large games room with its super-sized TV screen complete with 3D viewing options and surround-sound speakers, plus a choice of over 600 movies on file! But the boot room – with its boot and glove warmers – will definitely be your pleasant gateway to the white stuff beyond. Couple-friendly, group-friendly, child-friendly, gay-friendly, disabled-friendly with its lift – you name it! And what happens in the hot tub… stays in the hot top! If really lucky you might even get to meet owner Andy's rather cool dad, Max!
ON PISTE
You can buy ski passes covering the whole 4 Vallées, or for just the Printse area closer to Nendaz.
Mere steps from a funicular that takes you up to the gondola that, in turn, takes you up to the slopes, the Premier Alpine Centre (Chemin des Cibles 17, CH-1997 Haute-Nendaz; T: +41 (0) 27 565 79 97;) is a year-round one-stop-shop for all your outdoor activity needs – not least via its equipment rental and ski school. Owner Patrick leads an awesome team, including lush young Elliott – the kind of ski instructor you might just have to fall over on top of… once or twice!
The aforementioned vista from Mont Fort is an obvious must. But skiing on almost any slope here – from magic-carpeted green slopes, through blues, reds and blacks, right up to dare-devil off-piste itinerary runs – will afford breath-taking views over the sweeping snowy splendour of the Alps!
And don't forget to power-up with a long schnapps-fuelled lunch of goulash, fondue or raclette at one of the many fine panoramic mountain eateries hereabouts, such as Combatseline or Restaurant de Tracouet
OFF PISTE
But, of course, skiing's only half the fun!
Why not try a nocturnal torch-lit guided snowshoe walk along the Bisse du Milieu to discover more about the famous bisses of Nendaz – man-made irrigation channels so vital to local farmers. Maybe even time things to end your walk for a spot of dinner at the newly-refurbished, informal Auberge du Bleusy.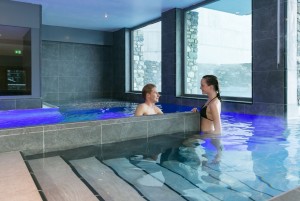 Talking of bisses, be sure to chill out post-slope one day at the stunning bisse-themed 2200-square-metre Spa des Bisses at the 4-star-superior Hôtel Nendaz 4 Vallées (Chemin des Cibles 17, 1997 Haute-Nendaz; T: +41 (0)27 611 11 11; – a two-level haven dedicated to water, offering jaw-dropping panoramic views, visible from its cosy inside, or from the terraces or heated infinity pool outside. Slowly work your way through its wide range of saunas, steam rooms and grottoes, not to mention its Kneipp circuit (aquatic barefoot walk), flotation basin and 'lazy river'. Splash out on treatments galore! Just don't forget your speedos!
Maybe end your spa time with a meal at either of the hotel's two restaurants – Le Clos des Cimes (gourmet, international and regional) or The 'Eagle' Carnotzet (Swiss eatery and wine bar) – perhaps popping into the piano bar afterwards for a little digestif, even a cigar!
Fancy something a little quirky, especially if returning in the warmer months? Then this'll really get your horn! Nendaz is arguably Switzerland's alphorn capital, with its International Alphorn Festival (24-26 July 2015) featuring a friendly contest, plus workshops and performances – including from an ensemble of over 100 horned-up players!