'Freedom to Kiss' Campaign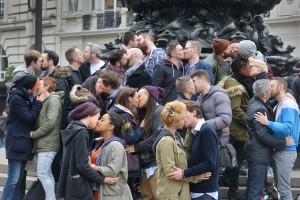 Britain's first ever Valentine's Day public 'kiss-in' took place today on the steps of the Eros statue, Piccadilly Circus, launching the campaign for the freedom to kiss in public – whatever your sexuality.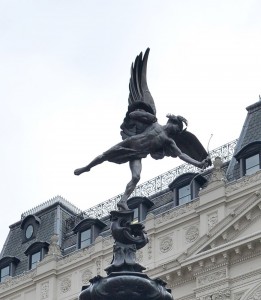 Over half of those in same sex relationships would not feel comfortable kissing in public.
In addition to the protest, #FreedomTo Kiss selfies were broadcast on Piccadilly Circus billboards.
Attended by couples of all sexualities and gender identities from across London, the public kiss-in protest was held in response to new research conducted by Pride in London, showing that 54% of same sex couples would not feel completely comfortable kissing in public. The research was carried out in light of the growing number of cases reported in the media where same-sex couples have been subjected to homophobic abuse for showing affection in a public place.
Over 1000 people responded to the survey, which asked participants whether they'd be completely comfortable kissing an LGBT partner in the public. Over half (54%) said that they would not be comfortable at all, and even though 46% said they would be, only one third of that group had never had any issues with homophobic responses in the past.
The fear of negative attention looms large in the mind of respondents; 86% of those who would be uncomfortable cited fear as an issue saying that they were frightened of negative attention in the form of name-calling or physical violence.
Bronac Mcneill who took part in the kiss-in protest said- "We all now enjoy more legal equality than ever before, but we are seeing an increasing number of same-sex couples be subjected to homophobic behaviour and discrimination for expressing affection to their partners in public. Now, more than ever before, we need more LGBT+ heroes, including our straight allies, to stand beside us and show why the right to kiss our partners in public – whatever their gender – is a freedom we should all enjoy,"
The event officially marks the launch of the 'Heroes' theme for Pride in London's 2015 parade, which takes place in central London on June 27th. Members and spectators of the parade will be encouraged to celebrate the LGBT's heroes that have championed – or continue to champion equality and our freedom to be ourselves.
Michael Salter, Chairman of Pride in London said- "Last year we saw a record breaking Pride in London as hundreds of thousands of people rallied together to celebrate the city's diversity and call for greater equality. This year, we are calling for participants in the Pride Parade to celebrate the heroes in their lives who have encouraged them to be themselves and have championed for the LGBT rights and the freedoms that we enjoy today and others that still need to be fought for like the freedom to show affection in public in the same way as anybody else."
'#FreedomTo kiss', forms part of Pride in London's greater award-winning 'FreedomTo' campaign which launched last year and resulted in the biggest Pride event the capital had ever seen, generating record attendance and engagement across the capital, with Stephen Fry, Kylie Minogue, Conchita Wurst, Tom Daley and David Cameron all taking part. David Walliams and Russell Brand as well as Susan Calman and her partner have already submitted kissing selfies online.
Since going live in January, the '#FreedomTo kiss' campaign has encouraged thousands of people across the capital and the country to kiss their loved one in public, take a photo and post it on social media, tagging #FreedomTo kiss.
Hundreds of '#FreedomTo kiss' selfies were displayed live on the Piccadilly Circus display screens, via Pride in London's social channels and courtesy of Clear Channel.
Visit www.prideinlondon.org for more details and to see the selfies taken so far.
Twitter: @LondonLGBTPride | Facebook: Pride in London