Bent USA – Whip Up Ice Cream Truck Underwear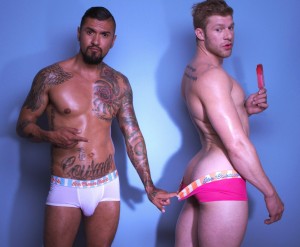 New Collection of Men's Underwear Inspired by the Rapper's Hit Song
Hip-hop artist/DJ Cazwell and fashion designer Geoffrey Mac have teamed together on a playful new men's underwear line inspired by the rapper's iconic "Ice Cream Truck" song. The underwear features an assortment of digitally printed designs including retro ice cream parlour stripes, festive rainbow sprinkles, and a golden waffle cone logo repeat on the inside. They are available in Berry, Pistachio, and Vanilla colours. The smooth, stretchy feel and comfortable form-fitting design give men's packages and rears that perfect scoop. As an added bonus, customers who purchase Ice Cream Truck briefs will receive the exclusive 2015 remix of "Ice Cream Truck" by Vito Fun and The Deloryanz.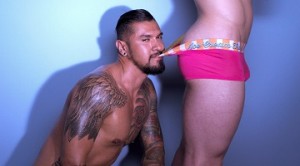 "I wrote 'Ice Cream Truck' in 45 minutes," recalls Cazwell of his most popular song. The video has yielded over 9 million hits on Youtube and Vimeo. "It was written for the indie movie Spork and because it would be in it for all of ten seconds, I didn't think anybody would listen or even know it was me. Now it's inspired an underwear line! That's wild enough to me."
Cazwell's bold persona and unique sound of mixing ridiculously fun electronic dance music with old school hip hop and homo-fied lyrics has made him a leading figure in New York City nightlife and the world over. His Top 5 "Hard 2 B Fresh" album was released last Fall and features several current chart toppers including "Dance Like You Got Good Credit," "Helen Keller" and "No Selfie Control."
The creations of Brooklyn-based designer Geoffrey Mac have adorned the likes of Britney Spears, Nicki Minaj, Lil Kim and Debbie Harry. He first approached Cazwell with the idea of a sportswear line of basketball shorts and tank tops but the rapper had underwear in mind.
"I knew from my go-go boy friends that there was a need for underwear that showed off their junk and gave their bubble butts a cute little lift."
Cazwell was very involved in the entire design process: from theme to color coordination to waistband. "Caz wanted vintage colours for that classic nostalgic ice cream truck look," explains Geoffrey Mac, who couldn't be happier with the end result. "People are going to eat these sweet treats up. They will be chasing the ice cream truck down the block to get a pair."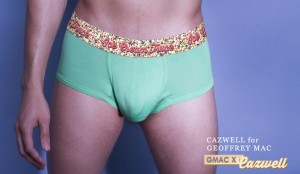 "I love fashion for the same reason I love music," says Cazwell. "There are no boundaries and endless possibilities. Fashion and music are always cross-pollinating. Musicians develop relationships with designers they relate to. Madonna has Stella. I have Geoffrey Mac."
The Ice Cream Truck Collection is go-go boy approved. "Of course," says Cazwell. "They are my target customers."
"Ice Cream Truck" is a special limited edition release.