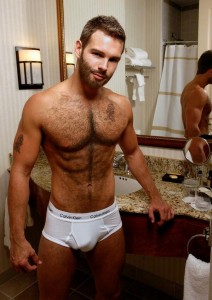 Just thought you might like to have a look at a relatively new site (to me anyway) called onlywayisgay.com .
It features a Daily Bulge (as shown), looks for all the sexy shots from the latest movies, models and pop press releases. Has gossip and conversation, web chat, fitness and, if you're that way inclined, you can post a sexy selfie, which be warned, you will be judged on it.
At the moment the main 'news' story is about our favourite Canadian popster and his lovely abs.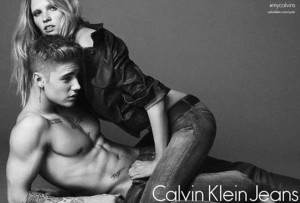 Justin Bieber has reacted strongly to criticism (you'd think he would have grown to ignore it by now the amount he must receive right?) that he had his abs and body digitally enhanced for these now infamous Calvin Klein modelling photos.
The images were posed for recently by Biebs alongside Dutch supermodel and David Walliams' wife Lara Stone, with the singer featured in his underwear. It must be said Justin's body is pretty banging, attracting claims it was digitally enhanced online, Justin rallied to his own defence saying:
'I work out with my trainer, Patrick Nilsson, five days a week for about 45 minutes each.
'We do three-days splits: back and triceps one day, chest and biceps on day two, shoulder and legs on day three, and abs every other day.
Well he certainly appears to know what he's talking about doesn't he – all this three day split business?
He continued: 'I'm not on a special diet, but I do try to watch what I eat. I do eat unhealthy sometimes – I am a 20-year-old guy!'