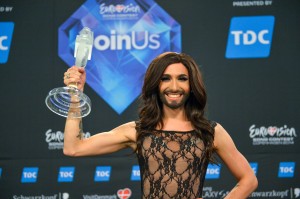 Although it meant nothing to Ultravox, Vienna will become the musical focal point when it hosts this year's Eurovision Song Contest.
Probably the most watched, loved, hated, talked about, campest, spectacular, stunning and occasionally 'grotesque' entertainment show– Eurovision never disappoints in providing some of the best television… in the world.
Controversial (but none-the-less cute) Austrian drag star Conchita Wurst won last year with her superb song 'Rise Like A Phoenix' but the reaction to this bearded, elflike singer was dwarfed by various countries describing her as 'a disgrace' and 'insult to families'. Only Eurovision could possibly withstand such sentiments by basically raising two fingers to those who complained and getting on with the show. Meanwhile, it has been confirmed that not only will Conchita perform she will also be taking care of the Green Room interviews at the event.

The event attracts thousands of fans worldwide, who will enjoy the big media circus, the songs, the outfits, the strange languages, the clubs and the many Eurovision parties where the history of this fabulous annual event will be discussed and dissected well into the night.
For those who might want something more… Vienna has been synonymous with music for centuries, and was home to Mozart, Beethoven, Schubert and Johann Strauss. This romantic city is rich in culture, shopping and nightlife. Wander along narrow, medieval alleyways or across imperial squares and avenues, visit the famous Schönbrunn Palace or the Imperial Palace (Hofburg) and follow the footsteps of Sissi.
Eurovision 2015 will be held in on Tuesday 19 May (first semi Final), Thursday 21 May (second semi Final) and Saturday 23 May (the Grand Final) 2015.
Photos: Thomas Hanses (EBU) Andres Putting (EBU)