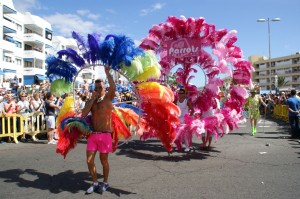 Gran Canaria is known as Europe´s largest gay destination and Maspalomas will host the 13th edition of Maspalomas Pride from 8 – 17 May 2015.
A week of amazing events such as live shows with international artists, huge parade with over 100.000 visitors, boat excursions, pool parties and much more! Many events are free but with the growing stature and success of Pride on the island, for some, there is a charge. Often these are wildly over-subscribed so advanced booking is recommended.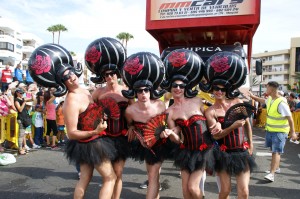 After the successful new setup of the VIP Area during Maspalomas Pride 2014, it will be even better than before during the 2015 edition! Enjoy the live shows on the main stage from a 2 meter high elevated area. This year the VIP Area will be located on the grass field so you will have excellent views over the Main Stage and the Yumbo main square! The Maspalomas Pride 2015 VIP Area includes:
•Exclusive access to the VIP Area with security
•Meet & Greet with artists
•Seated lounge areas
•Private VIP bar
•2 free drinks to spend per night (total of 20 drinks over the 10 days)
•Bottle service available incl. champagne
•Free VIP T-Shirt
•Free entrance to T-Dance, Wet & White and 1 pool party
•Restrooms
•Sexy Gogo´s
•Canapés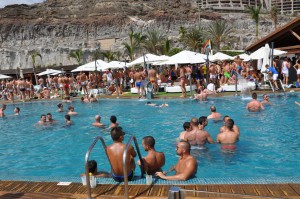 Meanwhile, another event that cannot be missed is on Thursday 14th May from 13.00 – 20.00h.
Wet & White at Amadores Beach Club inaugurated in 2014 and smashed every expectation! Offering sun bed service, an amazing restaurant, huge pool with 2 large jacuzzi´s and great music from international known DJs and artists seems to be the new success formula of Maspalomas Pride. A 15 minute free bus service will bring you the most southern point of Gran Canaria that is known for the best climate in the world! Amadores Beach Club has recently been awarded for best beach club of Europe! This day time event cannot be missed during your stay and the organization has done everything to make it even more spectacular than its last edition!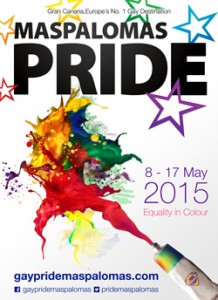 Enjoy the sun and enjoy the spectacle that Maspalomas Pride has become because there are plenty of free events on offer so… just dive in and soak up the atmosphere… and all the gorgeous, hunky talent.
For all the latest info and booking details: https://www.gaypridemaspalomas.com/