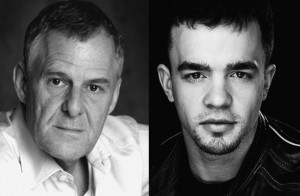 Ian Gelder – Kevan Lannister in the epic TV drama series Game of Thrones – is to play Frankenstein director James Whale and Will Austin is gardener Clayton Boone, who becomes the object of Whale's obsession, in the world prèmiere of Gods and Monsters at Southwark Playhouse.
Frankenstein director James Whale, long forgotten by the studios and in reclusive Hollywood retirement has fallen victim to a series of strokes. The only demons he fights now are in his head. Handsome new gardner, Clayton Boone, becomes an unlikely friend and unwitting player in Whale's grand finale. Not so much a Hollywood history as a glorious imagining, exploring the sometimes divine, sometimes monstrous landscape of obsession and desire.
Gods and Monsters is based on the novel Father of Frankenstein by Christopher Bram – the same source material as for the 1998 Oscar-winning movie, Gods And Monsters.
English film director, theatre director and actor, James Whale was openly gay throughout his career, something that was very unusual in the 1920s and 1930s. He is best remembered for four classic horror films: Frankenstein (1931), The Old Dark House (1932), The Invisible Man (1933) and Bride of Frankenstein (1935).
Ian Gelder's distinguished stage career includes playing Marcus Andronicus in Lucy Bailey's acclaimed, ultra-gory productuon of Titus Andronicus at Shakespeare's Globe, Jack Bryant in Roots at the Donmar Warehouse, Kent in Michael Attenborough's King Lear at the Ameida, The Low Road at the Royal Court, and Larry in Company at Sheffield Crucible. On TV he has featured in Mr Selfridge, Endeavour, and Psychoville.
Will Austin has just finished filming Mission Impossible 5 with Tom Cruise. He was in 24: Die Another Day alongside Kiefer Sutherland and Danny Boyle's Babylon. Gods and Monsters marks his professional London stage debut.
Gods and Monsters (Thursday 5 February – Saturday 7 March)
Southwark Playhouse, The Large, 77-85 Newington Causeway, London SE1 6BD
Box Office: 020 7407 0234