Yorkshire Terriers Calendar 2015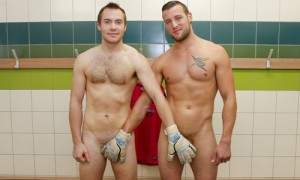 The players of Terriers have come together to strip off in a bid to raise funds and do their bit for charity with the release of a naked calendar.
Still wondering what your mum wants in her Christmas stocking? How about some Yorkshire steak? Whatever your poison, there's a Terrier for you. Beefcake? Twink? Geek? Bear? Hot mess? Beardy? Gym bunny? Daddy? Right Said Fred? We've got you covered. We are real men, with real bodies, and quite the eclectic bunch.
Past years have seen calendars from the Warwick Rowers and the University of Nottingham Hockey Team come out in solidarity against homophobia in sport. Now that message is coming straight from the horses' mouths as the Yorkshire Terriers continue to challenge preconceptions of sexuality and sport within and without the LGBT community. Represent.
Yorkshire Terriers FC play in the top tier of the national Gay Football Supporters' Network (GFSN) League, as well as honouring a number of more local fixture lists. The GFSN League brings together 16 LGBT teams in a safe space to play the beautiful game beautifully.
It is the only truly British football league, with participation of English, Scottish and Welsh teams across the tier system, and is the only national league to allow mixed-sex participation and facilitate trans inclusion. In so doing it speaks to the full LGBT spectrum and adds a unique voice to the footballing landscape.
Along with the benefits taken from the league's national set-up, the frequent call to travel across the country brings with it financial requirements uncommon in amateur football. To combat this, and allow the Terriers to play on, the Yorkshire Terriers FC 2015 Calendar has been released. As well as supporting the club, a portion of proceeds from sales of the calendar will be donated to charities working to address prostate cancer.
With streaks of the fiery and the fabulous defining the Terriers' travels so far this season, it has never been truer that you can take the ball out of Yorkshire, but you can't take the balls out of a Yorkshireman.
The Yorkshire Terriers FC 2015 Calendar is available for £10 (postage – £2 UK, £4 Europe, £5 America). For more information, please contact yorkshireterriers@hotmail.co.uk