Fascinating Aida celebrate 30 years
Fascinating Aida, Britain's best-loved comedy cabaret trio, who in 2013 celebrated 30 years of their unique brand of filthy, witty and fabulous entertainment, will finish their epic tour of hit show CHARM OFFENSIVE with a final potty mouthed peregrination round the UK during Spring 2015. First, they will kick off 2015 in style, returning to London for a New Year's season at Southbank Centre, playing the Queen Elizabeth Hall.
Despite being around since before the birth of the internet, Fascinating Aida has clocked up over 17 million views on YouTube and counting, and their videos have become viral phenomena multiple times. Dillie Keane, Adele Anderson and Liza Pulman's infamous anthem to budget travel, Cheap Flights has had over 12,000,000 hits to date, both officially and thanks to multiple uploads from fans, including translations into Hebrew, Russian and Italian. In 2013, they released a freshly minted song on YouTube entitled 'The Ofsted Song' which gained 100,000 hits within 7 days of posting. Finally, they released their own outrageous Christmas Carol "Try Not To Be A C**t at Christmas" – in 2013 it had 150,000 hits in a fortnight, and 60,000 on Christmas Day alone. When re-released on Facebook for 2014, it was viewed over 500,000 times in 48 hours. And not forgetting Dilliie's infamous dirty ditty Dogging, which has had 2,000,000 hits and counting…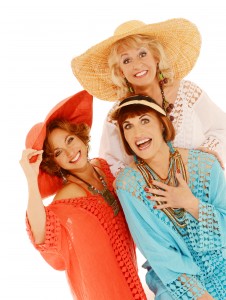 Dillie Keane founded Fascinating Aida in 1983 (and was joined by key writing partner Adele Anderson in 1984) and since then the group has played in hundreds of theatres in the UK and Ireland, with London seasons at the Donmar Warehouse, Lyric Hammersmith, Piccadilly, Vaudeville, Garrick, Apollo and Comedy theatres and the Theatre Royal, Haymarket. They have toured Australia three times, including a month at the Sydney Opera House, and also played New Zealand, San Francisco, New York, Berlin, Kenya, South Africa and Singapore. As Dillie herself says, "we've never been off the fekking road, and we're too old to retrain." They have made numerous television appearances and radio recordings, released seven CDs, three DVDs, two videos, an autobiography and a songbook, and have also been nominated for several awards – Perrier (once), Olivier (3 nominations) and New York Drama desk (3 nominations). In 2013 they won Best Musical Act in the London Cabaret Awards.
Dillie Keane says, "Fed up with endless austerity, and continuing government cunts? Seen the price of that house you wanted shoot up because the owner knows you'll pay less stamp duty? Already sick of the massive TV you 'acquired' on Black Friday? If so, come and be entertained at the cheapest and cheeriest show in town! Expect topical new songs hot off the press, plus some outrageous old favourites, as Fascinating Aïda continue to grow old disgracefully!"