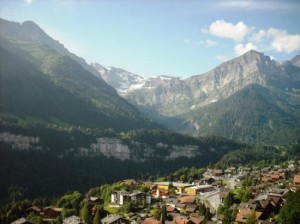 Chocolate 'n cheese, mountain 'n lake, money 'n men: Adrian Gillan is far from neutral about the active summer outdoors options in and around stunning little Champéry – jewel of the Portes du Soleil clutch of resorts, in Switzerland's French-speaking Valais region! So plan ahead and get booking! Have some fun outdoor warmth to look forward to as we enter the cold period!
Bored of the beach? Done with using your holiday to merely lie back, pig out and get drunk? If so, then the invigorating glories of Switzerland most naturally await! After all, it's the great outdoors that makes all those lean, tummy-tight local guys such Swiss beauties! And – sure – you can still drop into the odd spa, and savour the finest food and wine, along the way!
A mere two hours' smooth train ride from Geneva Airport, largely gliding along the eye-watering northern shore of Lake Geneva, and you are a thousand metres up in a true gem in the crown of the Swiss francophone Valais canton. Tiny Champéry retains its intimate charm and exclusive village-like feel, even in high winter or summer seasons, yet is also wonderfully hooked up, via cable cars and chairlifts, to the vast cross-borders Franco-Swiss network of resorts and valleys that has become known as Les Portes du Soleil. An Alpine paradise for skiers, hikers or mountain bikers – of all levels!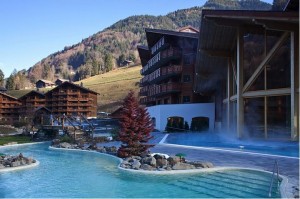 Situated at the end of the Vallée d'Illiez, Champéry itself is hubbed around a wooden-chalet-lined pedestrian street, dotted with the odd boutique or eatery, all set against the dramatic backdrop of the seven peaks of Les Dents du Midi; and all under the sweeping arc of a cable car that takes you effortlessly up to over 2000m, where the main outdoor action begins!
You might even coincide your summer visit around Champéry's magical Swiss National Day (1 Aug) celebrations featuring lots of wonderful live music and a traditional street fair and market, followed by an evening torchlight procession of floats, children and animals – what could go wrong! – all topped off with speeches and fireworks, plus mountain peak beacons! The closest you'll get to a gay pride here!
STAY
You could not find a more convenient, comfortable or friendly place to stay than Hôtel Suisse (Rue du Village, Champéry;), run by lovely Christophe and Elizabeth. Its forty light and airy chalet-style rooms either face onto Champéry's main little thoroughfare, or out across the valley to Les Dents du Midi's lofty ridges. The hotel's public area is spacious, featuring cosy snugs, alongside expansive lounges and terraces boasting vast valley views. Top notch breakfasts too!
BOOZE 'N BOP
If you develop a thirst whilst staying at Hôtel Suisse, you've only to pop literally next door to its adjoining Bar des Guides (Rue du Village, Champéry), surely the best starting point for any night on the "town".
A tad along the same street you might also try buzzing, youthful Le Levant (Rue du Village, Champéry); or, further down towards the cable car station, check out either comfy Le Gueullhi, or trendy Mitchell's.
La Crevasse (Rue du Village 71, Champéry), "Champéry's groovy nightclub", is for the truly hardcore. On a good night: lots of slope-fit cuties everywhere! An area of outstanding natural beauty indeed!
EAT
Peckish? After drinks on its outdoor terrace, treat yourself to authentic, traditional quality local dishes – like fondue, raclette or röstis – at informal yet classy Restaurant Le Nord (Rue du Village 106, 1874 Champéry;).
Facing Hôtel Suisse, Café du Centre (Rue du Village 58, 1874 Champéry;) has a high roomy terrace, perfect for yummy grazing and sexy people gazing.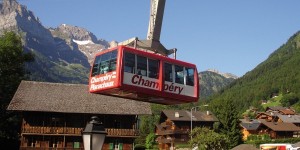 If using the cable car to reach the peaks, which you will almost certainly do at least a few times during your stay, then you can't miss panoramic "altitude restaurant" Croix-de-Culet (Upper Station, Cable Car, Champéry; T: +41 (0)24 479 23 34) up top, for tasty regional specialities and breath-taking views.
Whilst out hiking up there in the hills, make sure to plan your route for an al fresco terrace lunch at auberge-restaurant Chez Gabi (1873 Champoussin, Val d'Illiez;) with its spectacular valley views, tasty food and even tastier service! Likewise, check out the goat's cheese or ubiquitous apricot tart at nice Chez Coquoz, with its homely interior and sunny terrace. Watch the local fine wines don't make you giddy – remember, your head's already up in the clouds here!
DO
During winter, it's obviously all skis and snowboards. However, come summer, Champéry is a luscious blaze of mountain greenery and dazzling scenery.
There are mile after mile of clearly marked and well maintained hiking routes. Keep a sharp eye out for the reclusive yet teasingly playful little local mountain mammals, the marmots – a sort of cross between a supersized squirrel and a womble. It's worth investing in an official mountain guide for a day or two. It would be unfair to single out any by name but ravishing Grégory Bueche has raw youth on his side; whereas, for a more mature gentleman who still possesses the body of a god – and sturdy, graceful legs of a mountain goat – hand-pick handsome, suave Jacky Pochon!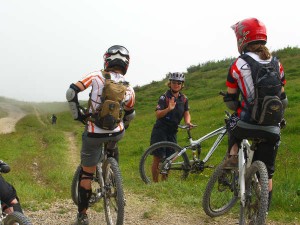 Likewise, there are countless miles of special mountain biking paths. To hire a range of bikes – downhill or cross country – plus protective gear, it makes sense to use Télé Champéry-Crosets (Route de la Fin 15, Champéry; T: +41 (0)24 479 0207; bikeshop@telechampery.ch) conveniently right under the cable car base station. For expert instruction, the saucily titled Free Ride Company can provide the very best – you might even ask if lovely Petra is available, sure to brighten the day of any man, or woman!
If you want a taste of safe rock climbing, Champéry's Via Ferrata – a prepared route of cables, ledges and ladders you are always securely fixed to – is an absolute must.
Or you can try the wide range of climbing walls at Champéry's large and impressive Palladium sports centre which also boasts a fitness suite, indoor and outdoor pools, world-class skating and curling rinks, plus clay tennis and beach volleyball courts.
After all that, you'll need to relax. Thankfully, just along the valley, there's the huge Thermes Parc (Route des Crettex 2, 1873 Val-d'Illiez;) with its fun indoor and outdoor pools – both exploding with water jets and fountains – plus a jet-assisted "lazy river", not to mention saunas, steam room and willy-withering ice cold plunge pot. There's also a great traditional chalet-style restaurant on-site too: La Bergerie offers quality, healthy and tasty fare – to fit in with the character of the baths – with especially fine fish dishes!