La Voix – more than just panto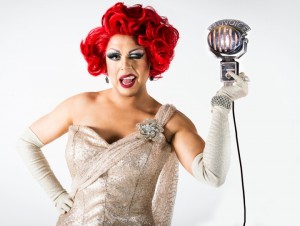 La Voix, the breakout star from this past season's Britain's Got Talent, is singlehandedly bringing the energy and rawness of the Big Band forties era back to the modern stage. "It was a time where pure talents shined," reminisces the world's newest drag icon. "When celebrities weren't all caught up in image and marketing."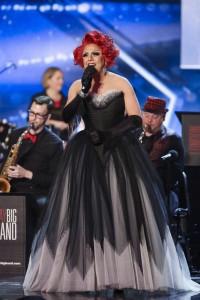 For the past ten years, La Voix has been taking on the giant divas of yesteryear and making them all her own. Even her name, French for "The Voice", speaks to her uncanny ability to switch between the vocal styles of Shirley Bassey, Liza Minnelli, Judy Garland and Cher with the click of a sparkly-gloved finger.
She is the only UK drag artist to win first place in every award on the cabaret circuit including 2012's Drag Idol, 2014's London Cabaret Awards, and most recently the Gold Boys Scene Awards. But it was appearing as a semi-finalist on Britain's most popular TV talent show that brought the vivaciously saucy performer to the world's attention.
"The show has had a huge impact on my act," she says. "I now have a producer, an investor, and I'm taking the La Voix show on the road!"
Her aim is two-fold: to bring drag back to mainstream in the UK and Europe, as it is in the USA, and to usher in the next Big Band era. She's enlisted the help of the London Gay Big Band, who will be joining her on tour.
"You don't realize how some of the old Broadway, jazz and Hollywood songs really sound 'til you've heard them played by a band as big as what they were originally written for," she says. "The sound literally lifts the roof and transports audiences back to a long forgotten time of pure brilliant music."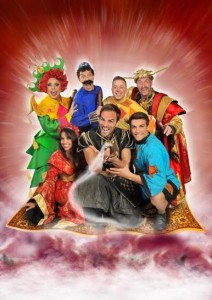 In addition to her stage show, La Voix recently announced she will direct and star in the new off-West End Pantomime show, Aladdin.
"It will be Vaudeville meets Disney," she explains. La Voix will play the role of Aladdin's mother, Widow Twankey.
"I have done Pantomime with the likes of Mickey Rooney, Cilla Black, and Pamela Anderson. It's crazy and humbling to think my little name will now have billing on a show!"
The talented performer may also soon be representing the UK in the next Eurovision. Her song, 'Kinda Groovy', is currently under contention. "It's an amazingly catchy song; a mixture of Andrew Sisters meets pop," she says.
Hers is a heavy load to carry but La Voix is a woman on a mission. She's determined to bring glamour, class, sophistication and humour back to stage and screen.
La Voix is doing it, one standing ovation at a time.
LaVoix is on Twitter and Facebook.