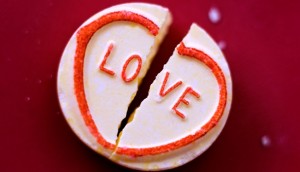 OK, so your last relationship didn't work out.
OK, you'd been together for years but somehow, and you're not sure how, you drifted apart.
OK, this is the second relationship that has failed, and your friends are urging you to 'get back on the horse' as there are 'many more fish in the sea'.
That's all very well but what can you do to avoid not only the mixed metaphor but from making the same mistakes again?
Take your time.
Don't panic. Don't wallow in self-pity but lose those feelings of anxiety, guilt, sadness, loneliness or anger about being alone. All of these can lead you to jump in to a new relationship before you're really past the previous one. Enjoy that new found freedom.
If you feel you need a distraction – join a club but try not to get bogged down on solely using the internet… get out and meet people.
It's that man again.
Try not to look for what you had in your last relationship in your new one. Whatever stylised scenario is cooking in your head, remember, trying to make people fit into your concept of a relationship is a sure way to cause problems. Take him for what he brings to the party not what you'd like him to bring.
What's he like?
There may be some areas of a relationship you simply will not ignore. Does he drink? Does he smoke? Is he too keen on a chemical high? Does he have a strong faith? Is he relatively motivated?
You need to know what you will put up with from the start because the chances of you changing him are slim.
What are you like?
Now here's the brutal bit. "What type of man do I need to be to attract the man I want?" Take a good hard and critical look at yourself and remember; first impressions last. So, for example, could your body be in better shape, have you taken time over two other, often neglected areas, grooming and hygiene? Are you hypercritical or perhaps a control freak? Take stock because the chances are… you are probably far from perfect.
Do you need help?
If you are struggling with it all why not call in the expert? In America, and now in the UK, there are loads of lifestyle coaches to help you overcome some of the trickier aspects of forming a new relationship… especially if you were unsure as to why those past relationships had broken down.
Although it is always nice to explore on your own as it can lead you into some strange and exciting places, it can also lead you up some blind alleys. It may seem obvious but a 'guide' on your journey often shows you things that you've never seen or considered before and could point you towards a better path to take.