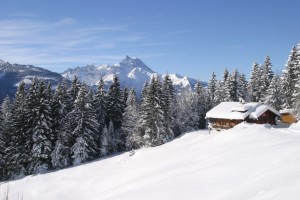 Stunning Alpine scenery plus spas, guys 'n booze! Adrian Gillan is far from neutral about the snowy glories of Villars and Les Diablerets, just east of Lake Geneva in Western Switzerland!
You can take off from the UK post-breakfast and be – after a scenic train ride along the shores of Lake Geneva – high on the slopes of Villars, or nearby Les Diablerets, in time for lunch plus a piste or two!
Villars itself has a more intimate village-like feel than some of the larger Swiss resorts – complete with its own outdoor market and al fresco bar near the Place de la Gare. For late night après-ski fun, where you can really mix with the younger locals – who tend to be pretty big characters, both eccentric and strangely sexy – check out Charlie's Bar and adjoining El Gringo Disco!
For a high youth quota, go during Ski & Snow Fiesta, 28 Mar – 12 Apr 2015.
Stay
Splash out and stay at the amazing wooden palace that is the 5-star Chalet RoyAlp & Spa (Route du Col de la Croix, 1884 Villars-sur-Ollon; T: +41 24 495 90 90;) for its roomy rooms with balconies; ace bar, restaurant and terrace; quirky fun lounge and games areas; gym, pool, sauna, steamer, sensory showers and spa; brill buffet breakfast; smart casual ambience; and attentive staff.
Snow fun
Of course, the skiing will doubtless still, for most, be the main event. For all your rental needs, pop into Sport's House to get charmingly kitted out by handsome young locals lads.
For more of which, brush up your skills at Villars Ski School which may have just turned 40, but still boasts some of the hottest young male teaching talent in the Alps. You'll count yourself especially lucky if you bag dishy Vincent or cheeky clownish Tom! An area of outstanding natural beauty indeed! The mountains aren't bad either, of course! And there is a range of pistes to suit all levels and tastes, from tiny tots to full-grown crazy carvers.
Cookie du Lac may sound like a Vauxhall drag queen but proves anything but a drag: the perfect place to enjoy lunch on the sunny slopes and lubricate your skills with some of Switzerland's finest wines before having another fun go on the white stuff!
You can ski from Villars to the nearby picturesque village of Les Diablerets where you take a cable car gondola up to above 3000m to ski on the glacier. From the viewing platform at the top you can see how surrounded you truly are by such famous peaks as the Matterhorn, Jungfrau and Eiger – even Mont Blanc. Whilst up here, have lunch and a drink or two on the sun-kissed terrace of the panoramic Refuge de l'Espace, seemingly perched right on the cliffy edge of the mountain.
Eat
Back in Villars, there is a wide range of eating options. Rôtisserie des Alpes, near the rail station, offers a wide menu of local specialities, all washed back with the finest local vino.
For something a bit quirky, try Le Peppino at the Eurotel, for a gastronomical dinner made with local plants and herbs – all doubtless healthy, and even medicinal, for you, and many of which you'd never have previously even remotely dreamed of eating!
For something quintessentially wintry and Alpine, take a 10 minute cab ride to tiny Cergnement where you can be transferred by skidoo snow mobile to the Refuge de Solalex for a typical mountain dinner in an intimate and cosy chalet hut surrounded by welcoming, friendly and hopefully joyously drunk handsome hunks. Who knows, you might even get snowed in for the night!