BFI London Film Festival.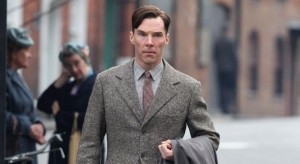 The 58th LFF will run between Wednesday 8th October – Sunday 19th October and this year will have a particularly strong focus in the programme on films with LGBT relevance. This focus covers everything from historical biopics detailing the repressive 'gross indecency' laws and the events leading to the controversial murder of a gay icon; an exploration of the life of one of the most influential gay artists, dysfunctional familial relationships, the tests and travails of a long term newly wedded gay couple, and issues of racial, cultural, sexual and gendered identity, as well as what it means to be gay and disabled.
This year's Opening Night Gala is the suspenseful and compelling THE IMITATION GAME directed by Morten Tyldum who will be in attendance at the screening on 8th October, alongside leading actors Benedict Cumberbatch and Keira Knightley. This biopic of British mathematician and cryptanalyst Alan Turing (Benedict Cumberbatch) alternates between three significant periods of Turing's life: the race to crack the German Enigma code in Bletchley Park, the interrogation of Turing after his arrest in 1952 for 'gross indecency' which lead to his conviction for homosexuality; and flashbacks to his schooldays and consuming close friendship with a boy named Christopher.
Elsewhere in the programme is this year's Dare Gala the widely acclaimed MOMMY directed by Xavier Dolan. The film focuses on a widowed single mom who finds herself burdened with the full-time custody of her explosive 15-year-old ADHD son. As they try to make ends meet and struggle with their impetuous and unpredictable ménage, the new girl across the street, Kyla, benevolently offers needed support. Together, they find a new sense of balance, and hope is regained.
Other notable LGBT titles this year include –
· APPROPIATE BEHAVIOUR directed by Desiree Akhavan
Central character Shirin is a Persian bisexual filmmaker living in Brooklyn trying to find acceptance of her identity in her communities, and the struggles and embarrassments she encounters along the way with her family, job and various male and female lovers; whilst all the while trying to understand what went wrong with her ex-girlfriend Maxine. Writer/director Desiree Akhavan, best known for her cult web series The Slope, stars in this story of a bisexual Iranian-American woman trying to find her way in modern-day Brooklyn. Appropriate Behavior is an intelligent, engaging comedy that heralds an exciting new voice in indie cinema (with Akhavan soon to be seen in the next season of Lena Dunham's Girls).
· GIRLHOOD directed by Celina Sciamma
From the director of 'TOMBOY' and 'WATER LILLIES'. Oppressed by her family setting, dead-end school prospects and the boys law in the neighbourhood, Marieme starts a new life after meeting a group of 3 free-spirited girls. She changes her name, her dress code, and quits school to be accepted in the gang, hoping that this will be a way to freedom.
· SOMETHING MUST BREAK directed by Ester Martin Bergsmark
A love story between two young men where one is the androgynous Sebastian and one is Andreas who is not gay. They form a unity. It's them against the polished Swedish Ikea society. They dream about escaping boredom and the risk of becoming what everyone else is.
· HOCKNEY directed by Randall White
A new documentary about acclaimed British artist David Hockney including access to the artist and his personal archives. An important contributor to the Pop art movement of the 1960s, Hockney is considered one of the most influential British artists of the 20th century. He is perhaps most famous for his series of paintings of swimming pools, including 1967 work A Bigger Splash.
· THE WAY HE LOOKS directed by Daniel Ribeiro
Sweet gay coming-of-age feature debut by director Daniel Ribeiro. Leonardo is a blind teenager dealing with an overprotective mother while trying to live a more independent life. To the disappointment of his best friend, Giovana, he plans to go on an exchange program abroad. When Gabriel, a new student in town, arrives at their classroom, new feelings blossom in Leonardo making him question his plans.
· PASOLINI directed by Abel Ferrara
A look at the final days of Italian filmmaker Pier Paolo Pasolini (The Gospel According to Matthew and Theorem) and the confusion surrounding his death in 1975, the film stars Willem Dafoe as Pasolini.
· LOVE IS STRANGE directed by Ira Sachs
After nearly four decades together, Ben (John Lithgow) and George (Alfred Molina) finally tie the knot in an idyllic wedding ceremony in lower Manhattan. But when George loses his job soon after, the couple must sell their apartment and – victims of the relentless New York City real estate market – temporarily live apart until they can find an affordable new home. While George moves in with two cops (Cheyenne Jackson and Manny Perez) who live down stairs, Ben lands in Brooklyn with his nephew (Darren Burrows), his wife (Marisa Tomei), and their temperamental teenage son (Charlie Tahan), with whom Ben shares a bunk bed. While struggling with the pain of separation, Ben and George are further challenged by the intergenerational tensions and capricious family dynamics of their new living arrangements