Ripped & Stripped – 2015 Calendar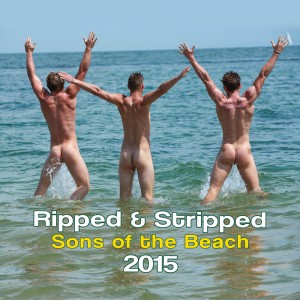 Everyone is in a rush to make sure their calendar gets into the shops first to maximize sales. Tom Daley and a host of other celebs (gay, gay-friendly or otherwise) are hoping to grab that early market. Today sees the launch of the Ripped & Stripped 2015 Calendar and exclusive 'Making Of' Video. This fun-filled calendar and video give an insight into what happens when eight sporty young athletes lose their clothes on a day at the beach!
The project has an underlying aim to raise money for good causes, with 20% of the price of the items purchased being donated to three charities; The Albert Kennedy Trust, Ballboys Testicular Cancer and Macmillan Cancer Support.
The boys had a fantastic time in Dorset making this calendar, spending more time mucking around than working. Moments of pure imagination resulted from the fun and laughter – with seaweed and sandcastles amongst the creative props used to preserve the boys' modesty.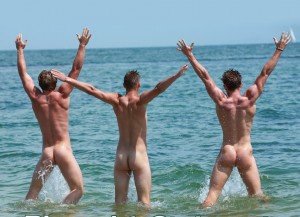 Harry, one of the handsome lads making his calendar shoot debut, was really impressed: "I had no idea how much work went into a project like this. I ended up spending a whole day with no clothes on, but Nick and all the other lads were so relaxed and having lots of fun that it didn't bother me at all."
There are options for every pocket – from £12 for an unsigned wall calendar up to £40 for a video package; including printed and digital versions of the calendar, a 60-minute 'making of' video and over a hundred bonus photographs. Founder and Photographer, Nick Baker, explained the motivation behind the video: "The young men featured in this project are just amateur models so you get to see very natural and unscripted video footage of what happens behind the scenes – and of course when there are so many sporty young men together there is no shortage of testosterone-fuelled showing off!"
There were some mishaps amidst all the fun and games that make for comical viewing, with Cameron struggling to do a hand stand, Jack being dropped by the other lads when posing for a group photo and Amber, our dog, consistently getting involved in the action.
A two minute trailer video can be viewed on the website. This "friendly for all to watch" video offers a glimpse of the day on the beach and you can see the lads 'posing for photos' (splashing around!) whilst Aaron and Jack guide you through the day's activities, mainly by frolicking around in the sunshine and laughing at the other lads. Particular targets were Alex and Cameron, who, according to Aaron, "Can't throw a ball, can't catch a ball and splash like girls!"
In the full-length 60 minute film, you will get to see all the goods we can't show you in the trailer and this is why the film is classified by the BBFC as certificate 18. Cheeky model, Jack, jokingly observed how some of the boys were more reserved about baring it all in public, whilst others weren't; "Tyler keeps…hiding himself, then there's Alex who's just flopping his stuff about everywhere!"
Visit the website: www.rippedandstripped.com , to pre order now – calendars will be dispatched from Sunday 28th September and the 60 minute video will be available to download from October.