Bent America – "Good Girl Freak Out"
Kelly Osborne stars in the trippy new music video from the high-energy queer electro-hop duo of davO and Krylon Superstar, jointly known as Double Duchess.  Written by davO and Chris Cosgrove of, Good Girl Freak Out is being referred to as Future-Twerk.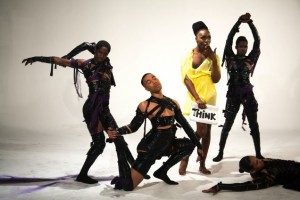 The urban duet has the beat of twerk, but with a more indie, melodic, pop feel. Its accompanying music video, directed by JB Ghuman, depicts a couple caught in the dance of hooking up, breaking apart, and getting back together again. Kelly Osborne portrays a holographic purple character – inspired by Jem of Jem and the Holograms – that guides the conflicted couple to finding their truth.
https://www.youtube.com/watch?v=Oq7uhF8lDy8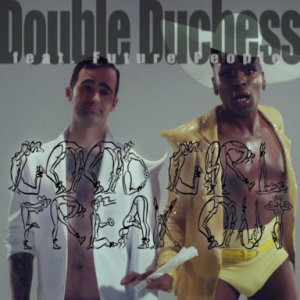 "As retarded as it sounds, I tend to make things based on my dreams," explains JB Ghuman, the music video's eccentric director, best known for his independent films Spork, Dakota Skye, Starcrossed, and I Do It For The Ratchets, as well as his recent music video for gay rapper Cazwell.  "I had been having a couple of strange dreams when I first met Krylon at an art gallery opening in Los Angeles.  We got to chatting and first I asked if I could do a nude art installation of his beautiful dance form. Then I got to know davO and their music and I immediately felt I met a band that was doing that rad thing with a special sort of sound."
Double Duchess has been heating up the national queer scene since 2012, delivering a raw and campy electronic sound.  They've become known for their big beats and playful narratives, as well as Krylon Superstar's mesmerizing voice and performance art and davO's emceeing and production deftness.   Their musical influences include Baltimore club, booty breaks, and ballroom house, all wrapped in a world of couture fashion.
 "I'm a filmmaker at heart but I love music that makes me move on the inside," continues Ghuman.  "Once I heard Good Girl Freak Out, I felt it was my chance to dive into the strange dreams I had been having.  The songs lyrics presented the perfect opportunity to explore the magnetic field of the heart and pineal gland.  People would be in awe of the incredible findings modern science is uncovering about the field around our hearts and the effects it has on our emotions.
"davO and Krylon heard me out with my ideas and then brought their own dope factor to the table which only made what I wanted to do even better."
JB called on Kelly Osborne – who is attached to his current film – to play the holographic girl in the music video.  "Kelly is hyper into the art tip and hella supportive of things she's into.  She also gets my insanity."
Kelly read the treatment, listened to the track, and got back to JB with a "bitch, I'm in."
"I used to be embarrassed to admit how strong of an influence my dreams have on my work," JB Ghuman laughs. "But now I say fuck it.  Dreams are really behind all I do so why not live by my truth? Who knows, maybe other peeps with the same weird ass dreams will see something I've done and it'll validate something inside them like it did me years back."
Double Duchess supports living by truth. "Through our music, we ask everyone to be and tell your truth regardless of sexuality, gender, race. We don't want any beautiful faces hidden from the world."
Double Duchess' next full-length release is tentatively scheduled for a Feb/March 2015. The album will cover a wide range of sounds and include collaborations with fellow queer artists Nicky da B and TT the Artist.
For more information on Double Duchess, visit www.doubleduchess.com. 
For More information on JB Ghuman, visit www.jbghumanjr.com .
Double Duchess' Good Girl Freak Out featuring Future People is available now on iTunes and other major online retailers.