IOC Adds Anti-Discrimination Clause to Olympic Host City Contract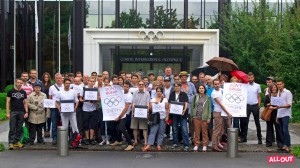 Following the international outcry over Russia's anti-gay legislation that overshadowed the 2014 Sochi Winter Olympic Games, the International Olympic Committee (IOC) announced in a letter to prospective host cities that it would be adding a new anti-discrimination clause to its host city contract. This important change comes in the wake of enormous public pressure on the IOC from All Out and other human rights organizations in Russia and around the world in the lead up to the Sochi Games.
In March this year, more than 80,000 All Out members called on the IOC to add human rights provisions to the host city contract. In addition, an unprecedented coalition of human rights organizations led by All Out, Athlete Ally, and Human Rights Watch, sent an open letter to IOC president Thomas Bach, urging the IOC to make these changes. All Out, in partnership with Athlete Ally, also launched the Principle 6 campaign last year to highlight the Olympic principle of non-discrimination and give athletes and fans a way to speak out against Russia's anti-gay laws before and during the Games. More than 50 Olympians, including a dozen competing in Sochi, joined the campaign.
"This is a significant step in ensuring the protection of both citizens and athletes around the world and sends a clear message to future host cities that human rights violations, including those against lesbian, gay, bisexual, and transgender people, will not be tolerated," said Andre Banks, co-founder and executive director of All Out, the global movement for love and equality. "This is a particularly important moment for the world's lesbian, gay, bisexual and transgender citizens who face discrimination and persecution not only in Russia but in countries all over the world. We will continue working to make sure this change is powerfully enforced – these new rules must prevent a replay of Sochi."
According to IOC Sports Director, Christopher Dubi, the new clause will include "the prohibition of any form of discrimination, using the wording of Fundamental Principle 6 of the Olympic Charter." This clause will ensure that future host cities must abide by international human rights standards in order to host the games, including the protection of lesbian, gay, bisexual and transgender citizens and athletes.
"By adopting a non-discrimination clause into its host city contracts, the IOC is showcasing its own realization that we must protect the rights of every athlete to live free and openly," said Hudson Taylor, Executive Director of Athlete Ally. "The Principle 6 campaign sought to shed light on the responsibility of host countries to uphold the Olympic values, and this action validates all of the hard work by organizations and individuals across the world who've engaged in the fight for LGBT equality. Though there's work to be done, this is a major step in the right direction."
This change represents an important victory for All Out's 2 million members, who have pressured the IOC for more than a year to protect lesbian, gay, bisexual, and transgender athletes and fans.
"Since 2011, All Out members have mobilized alongside Russian citizens to stop the anti-gay laws that have been flourishing in the country," said Andre Banks. "This is an incredible culmination of that work and demonstrates the power of our movement for love and equality. Global sport institutions like the IOC have a key role to play in fighting discrimination, including anti-gay laws. It is heartening to see them getting on the right side of the global movement for equality."