Bent America – Dance Like You Got Good Credit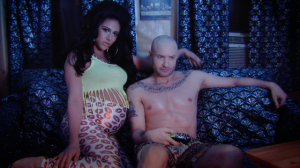 NYC based club stalwart (and rather sweet gay guy) Cazwell announces his highly-anticipated sophomore full-length album Hard 2 B Fresh to be released 30th September via Brooklyn-based indie Peace Bisquit. This not-so-random white dude gathers an impressive and illustrious list of collaborators to make for a ridiculously fun mix of electrified club music and old school hip hop.
Cazwell was inspired to write the title track, "Hard 2 B Fresh" while "getting fresh" at the legendary Russian Turkish Baths in New York City's East Village. An old-school spa he often visits to "detox" and brainstorm new ideas. The rapper enjoys referencing comical and sexy situations he experiences when titling his tracks.
Notable tracks on "Hard 2 B Fresh" include "No Selfie Control" – a song Cazwell wanted to dedicate to narcissists like himself and anyone who has been guilty of taking more than 4 selfies in a day, "Dance Like You Got Good Credit" featuring Cherie Lily (Andrew WK's wife) which tackles the U.S. debt crisis – a situation Cazwell finds amusing because "we go broke trying to make ourselves look rich", "Unzip Me" with Peaches – a track picked by the revered "Fuck The Pain Away" singer about getting a handjob at the club and "Guess What?" – the gnarly, horn-ridden electro collaboration with British pop star Luciana (Tiesto, Hardwell), that became a top 15 Billboard Club Play hit in the USA and UK.
Earlier in the year, beat impresario and DJ, Richie Beretta produced Cazwell's track "Helen Keller" – a term the rapper made up for when a person ex-communicates someone from his or her life ("I don't see you, I don't hear you, I've Hellen Keller'd your ass")
Don't get it twisted, the Massachusetts-born Cazwell has proven himself a hard worker for sure. He tours the world every year playing to enthusiastic crowds and festivals, has had over 10 million combined video views on Vevo / You Tube and has managed over 1 Million download / streams of his independently-released music.
From becoming a You Tube sensation after a million people viewed the ridiculously popular and oft-imitated "Ice Cream Truck" music video in a single week, to producing a steady flow of singles and videos that capture his engaging charisma, self-effacing humour and personality, Cazwell has earned credibility on and off the floor with a slew of anthemic and danceable hip hop tracks. This big 'ol bag-o-tricks includes future hits like Latin twerk nugget, "¡Spicy!," "I Blocked Your Number," the neo soul-laced "Cats and Dogs," and Caz classics like "Rice & Beans," the disco-sampled "All Over Your Face" and Courtney Love's personal favourite "I Seen Beyoncé At Burger King." Cazwell's new album, "Hard 2 B Fresh" impressively showcases his hypomanic yet insightful take on pop culture. We're proud to present to you a musical force who has been described as "what would have happened if Eminem had grown up on Madonna's front lawn."
To watch Caswell's – "Dance Like You Got Good Credit"