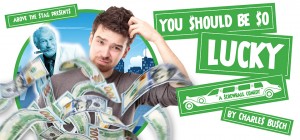 A contemporary gay Cinderella story!
When the shy, eccentric and accident prone electrologist Christopher helps the elderly Mr Rosenberg recover from a fainting fit he's not expecting to be sent off to meet his Prince Charming at a glamorous charity ball.
And when the electrics short so he accidentally kills Rosenberg he certainly isn't expecting to inherit his millions … nor to end up on reality TV facing the fury of his embittered and furious daughter, Lenore.
But it's the icing on the cake when the old man turns up to lend a hand in the guise of a very ghostly fairy Godfather…
The writer Charles Busch is a New York born American actor and playwright who has spent his career writing and creating off the wall characters, largely in drag. In 2003 he received a special Drama Desk Award for career achievement as both performer and playwright. His play The Tale of the Allergist's Wife, with Linda Lavin ran for 777 performances on Broadway and received a Tony nomination for best play. He also wrote and starred in the stage and film versions Psycho Beach Party and Die Mommie Die, the latter winning the Best Performance Award at the Sundance Film Festival.
You Should Be So Lucky opened in 1994 at Primary Stages Company, New York City, USA and quickly garnered great reviews:
'a very funny, exceptionally generous-spirited work … utterly winning,' New York Times
'A bright comedy… Busch invariably creates great parts for women.' New York Daily News
Above the Stag Theatre: Arch 17, Miles Street, London SW8 1RZ 17th September to 18th October