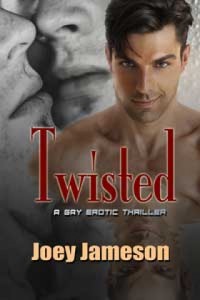 Imagine another person, the mirror-image of you but yet different in every way… Everly and Hadley Stone are gay identical twins.
Growing up the boys were inseparable, always at each other's side and experiencing everything together as one. It seemed like nothing was strong enough to break the bond between the two brothers.
Until now…
On the eve of their birthday the twins meet a man who is literally to die-for, causing them both to fall helplessly at his feet.
But what any unsuspecting man should know, is that wherever the Stone brothers go, trouble follows.
Their story is one of secrets and lies which will have you guessing till the brutal end who's good, and who's very, very bad.
Light or dark? Sweet or sexy? Quiet or confident? Innocent or deadly?
Pick your flavour.
Twisted by Joey Jameson