It's a wet and slippery kind of place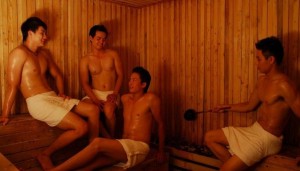 By Lee Price
Pink News recently reported that many gay bath houses in the USA are closing because of the prevalence of Grindr, Gaydar and the like (https://www.pinknews.co.uk/2014/08/24/are-hookup-apps-killing-off-gay-saunas/ ). They simply cannot offer the instant 'meet, greet and do' that these find-a-mate sites offer. Will the UK's gay saunas suffer a similar decline?
There's no doubt about it that hookup sites are an absolute boon… and so damned easy to use. Instant access and, often, instant gratification.
There are those of course who would not mourn the passing of the gay sauna. There are those who think the gay sauna is a bit of an anachronism in the modern 21st century. Many wish they had died out when HIV/AIDS reared its ugly head and saw attendances to these venues plummet. However, they survived because some people like them. They offer the gay man something his straight counterpart can only dream off… a place to go for sex without spending a fortune. For the connoisseur they are much more preferable to going to a club or bar and listening to ear-splitting music, buying expensive drinks, only to see the object of your desire walking off with someone else and you returning home alone. At the sauna you are there for one thing, you might not get it but you're in an environment that is more likely to offer the opportunity at least.
As mentioned before, it is for these very reasons that some (and often gay chaps themselves) despise the saunas very existence. They cling to the notion that these are seedy and unhealthy places that are desperately in need of a visit from the Health and Safety Officer and ought to be closed down. I have been to saunas that could give some of the best boutique spas a run for their money, so it's not all worn carpets and the smell of stale spunk. Having said that… this is a manly environment so, testosterone is going to be high up the aroma chart, which for many is the big turn on. The availability of health literature, condoms, men… together with a warm environment is very conducive to my particular well-being. Also, and strange as it may seem, I have found saunas to be very friendly indeed and have made some good mates as a result of my many visits.
Hookup sites will have their fans, and there will be those who will use nothing else. There are those who love spending their time in a club, the chase being all part of the fun and games… and there are those like me… who simply love the atmosphere generated by a gay sauna. I for one would be sad to lose such a valuable asset to gay life.