The Greatest Gayest Sporting Event of the Year…?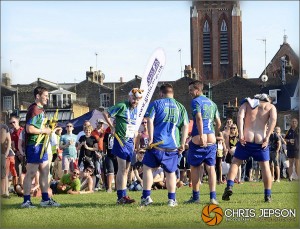 Prepare to toss your handbag! This year's GMFA / RVT Sports Day boasts 12 teams who shunned the chance to compete in the Commonwealth games so that they could display their prowess at the UK's premier gay games – of the silly variety.
Notting Hill who? Sports Day outshines any other carnival with its colourfully be-costumed athletes causing synchronised chaos in the Vauxhall Pleasure Gardens on bank holiday Monday, 25 August. Tumbling Conchita Wurst off her rickety pedestal, our very own original bearded drag queen Timberlina will keep the boys and girls in line with her inimitable style and dry, ascerbic humour. Events include the tug of war, the 50 meter mince and a drag relay.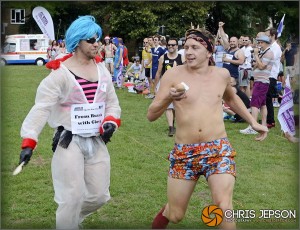 If this all sounds too fun to miss out on and leaves you yearning to compete, it's still not too late to register a team and help raise vital funds to support HIV prevention for gay men and to benefit the local community. To register, email michael.flaherty@gmfa.org.uk  or visit www.gmfa.org.uk/sportsday  to view videos and pictures of previous events.
Once Timberlina has brought the sporting events to a close and winners are parading their hard-won medals for all and sundry, the festivities move into the Royal Vauxhall Tavern with La Voix taking over the reins. The evening kicks off with an auction to end all auctions, boasting prizes donated by the immensely great to the unclassifiable – get your head round this list of donors: Lord Smith, Paul O'Grady, European Gay Ski Week, Kathleen Turner and Ian, MacDiarmid (the Emperor out of Star Wars), the casts of Mamma Mia and Les Miserables, Prowler, Fifty and Dean, MensPackage.com and Keihls.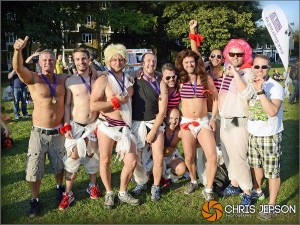 Matthew Hodson, GMFA's Chief Executive, commented: "Each year Sports Day gets bigger, better and more outrageous. If you've never been to a Sports Day before, you're missing a real treat. It's like the World Cup but with bigger balls."
The Gay Sports Day is an institution dating back to the 80s. This is the 8th successive year that GMFA, the gay men's health charity, and the Royal Vauxhall Tavern have joined forces to host the event. Money raised from the event funds GMFA's sexual health work for gay men, including HIV prevention campaigns like 'Think Again', their websites (www.gmfa.org.uk) and FS magazine, GMFA currently receives no money from the Government for their HIV prevention work and relies upon the support of the gay community to fund this work. Money raised will also go to two organisations that help look after the local Vauxhall community – Vauxhall City Farm and The Friends of Vauxhall Pleasure Gardens.
Each team of five collects sponsorship for the event, with a minimum of £500 expected from each team. There are three award categories with medals for the winning team, for the team that raises the most money and for the team with the best outfits. Teams signed up so far are a right mix of faithful veterans and wide-eyed newbies (listed in no particular order): XXL, European Gay Ski Week, Superqueeroes, Mighty Morphin Power Bottom Rangers, Bear Patrol, LGMC, Into Mi-Nan, One in a Minion, King's Cross Steelers, GLADD, Get Your Drag On.
Matthew adds: "Sports Day is all about fun, celebration and giving back to the community. The money raised at this year's event will help GMFA to prevent new HIV infections by giving us money to run campaigns, like the 'Think Again' ads, which have got young gay men to consider how HIV could affect them. We've got more campaigns coming up this year and every penny raised will help us to ensure that we can reach more gay men with HIV prevention information. So whether you want to show off your sporting prowess, your finest fancy dress, or just to cheer from the sidelines, we hope to see you there."
www.gmfa.org.uk images: www.chrisjepson.com