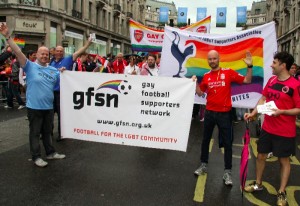 The Gay Football Supporters' Network is leading the largest ever football presence at a UK Pride event, at this years Manchester Pride (23rd-25th August). Officially supported by Manchester City Football Club, the event will see the major UK LGBT football organisations walking together in Manchester's Pride parade, attending matches, and operating a Pride expo stall.
This year's Pride theme is "LOVE" and we will be using the hashtag #LoveLGBTfootball on social media across the weekend.
Saturday 23rd August
Manchester Pride Parade
The GFSN will lead LGBT teams, friends and fangroups walking together in the Manchester Pride Parade, including Village Manchester FC, Canal Street Blues (MCFC), Rainbow Toffees (Everton), LFC LGBT (Liverpool), Mersey Marauders FC, Just A Ball Game, Football v Homophobia, and many more.
Manchester City FC are sending their official mascots, Moonbeam and Moonchester, to join us in the parade and Canal Street Blues will carry a large banner.
Saturday 23rd to Monday 25th August
Manchester Pride Expo Stall
GFSN, Canal Street Blues, and VMFC have a combined stall at the Pride expo throughout the weekend. Come and visit us to find out more about LGBT football in Manchester and throughout the UK. Take part in football skill competitions and meet players and fellow fans.
Sunday 24th August
MCFC Women v Arsenal Ladies
We'll be attending the women's match at the Manchester Regional Arena next to the Etihad stadium and will be displaying the Canal Street Blues banner at its first match.
Monday 25th August
MCFC (Men) v Liverpool FC (Men)
We will also be at this massive game at the Etihad stadium with our friends from LFC LGBT.
Ed Connell, GFSN Chair says: "We're excited to lead the largest ever football group at a Pride parade and look forward to a fun weekend of events which will help to raise the profile of LGBT football in the UK and beyond. The support of major clubs like Manchester City FC is very welcome and a superb way to bring our message of inclusion to a wide audience."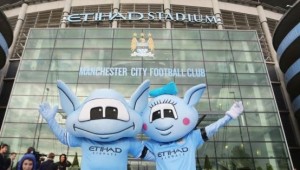 John Browne, Canal Street Blues Chair says: "With fantastic help from the club we've created an official City LGBT supporters' group very quickly and we're keen to celebrate Pride and show that MCFC is a very friendly and inclusive place for all kinds of fans."
Former City keeper and City in the Community Ambassador, Alex Williams said: "Community has always been at the heart of Manchester City Football Club so it's great to be supporting such an important and inclusive event in Manchester. Come down and say hello to Moonbeam and Moonchester and show your support for Manchester Pride."