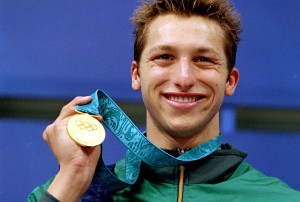 In an emotional new interview that is scheduled for transmission in Australia today (Sunday) nine times Olympic medal winner, swimmer Ian Thorpe has come out as gay.
The Aussie athlete, nicknamed the Thorpedo because of his speed through the water, who has previously denied the rumours about his sexuality, confesses to Michael Parkinson that although he has dated women, he is in fact gay.
In recent times the 31 year-old has been plagued with depression and his competitiveness in swimming suffered as a result. In his autobiography he admitted he had a problem with fame and substance abuse and as a result he retired from swimming in 2012.
Speaking about the interview Parkinson said: 'I think his sexuality is no one's business but his own… but I think it's one of the best interviews I have ever done in terms of (Thorpe) talking about depression and things like that."
Fellow gold medal winning Olympian, and out diver Matthew Mitcham told the Australian Daily Telegraph: "I can totally understand how difficult this whole process has been for him."
"I really hope this process gives him some peace and that the media and the public give him the same respect and the same overwhelming support I received in 2008.
"The Australian public and media have a really wonderful opportunity to set an example for kids who are in Ian's position."
At the moment there is no date for the interview to be aired in the UK