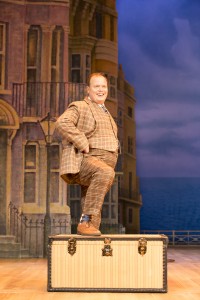 The National Theatre's award-winning comedy, One Man, Two Guvnors, directed by Nicholas Hytner arrives at the Alhambra Theatre on 21st July as part of a major tour of the UK and Ireland. The acclaimed production is based on Carlo Goldoni's classic Italian comedy, The Servant of Two Masters and has songs by Grant Olding, performed by The Craze.
This five star production tells the hilarious story of Francis Henshall who, fired from his skiffle band, becomes minder to Roscoe Crabbe. But Roscoe is really Rachel, posing as her own dead brother – who's been killed by her boyfriend Stanley Stubbers. Francis spots the chance of an extra meal ticket and takes a job with one Stanley Stubbers – but to prevent discovery, he must keep his two guvnors apart. It has been described as a glorious celebration of British comedy – a unique, laugh-out-loud mix of satire, songs, slapstick and glittering one-liners.
Hull born Richard Bean, who wrote this award winning play's first job was working in a bread plant before leaving to study Psychology at Loughborough University. He has worked as a psychologist and stand-up comedian but here tells Bent how he adapted the play… and why.
'I adapted a version of Don Boucicault's London Assurance for National Theatre director Nick Hytner in 2010. Nick described it as a juiced up old play and our version was a fabulous success. When Nick was talking about adapting Carlo Goldini's Eighteenth Century farce, The Servant of Two Masters, I got the gig.'
What's your background and how did you get into writing.
'I started writing very late in life. I was born in Hull, studied psychology at Loughborough University and worked in industry as an occupational psychologist for fifteen years. I had no particular interest in theatre. Then at 35 I started doing stand-up comedy which was my first venture into writing. For that kind of comedy everyone has to write their own material. I lived with an actor for a while and that got me interested in theatre. I was forty two when I wrote my first professionally produced play – it was produced by the National Theatre and the Royal Court. Forty two was quite old for a first play. I then came to the NT Studio for three month bursaries for a couple of years and found I could write plays quite quickly. This was a great boost to me as I could become a full-time playwright. I wrote my 2nd 3rd and 4th plays at the National Theatre.
Toast was my first play in 1999, and it was 10 years later that I wrote One Man, Two Guvnors. The first few plays I wrote tended to be 'hairy bloke plays' about men at work – trawler men and factory workers and that kind of thing. That was an early phase if you like. Then there was my second phase. They are what I call my ' counter-intuitive plays' . Others have called them controversial plays.
My stand-up background has always meant that I've relied on my comedy to keep the audience interested even if I'm dealing with serious subjects. Other writers, without naming names, might use poetry or sensationalism. But I've always tended to use comedy or the odd funny moment to keep people interested in the plot – even with serious plays like The Big Fellah about the IRA in New York. I've written about 15 plays but I've only tried to write 2 out and out comedies in all that time.
One is my own farce called In the Club about an MEP in Brussels, in the European Union and the second is One Man, Two Guvnors. The stakes are so different when you write a farce. A lot of my plays are incorrectly described as comedies in my opinion. Just because they are funny, that doesn't make it a comedy in my opinion.
Farce is incredibly difficult. When I tried to write my first farce, In the Club – I remember sitting in the corner of my study crying – a grown man sobbing – I'm not proud of it. I just couldn't make it work. It's so difficult to make a farce work. Every time someone leaves there has to be clear motivation and every time someone comes in there has to be clear motivation and the doors are so important. It's unbelievably difficult plotting to do that kind of thing. In the Club was moderately successful and so I gave myself five or six years off before I tried my next farce. One Man, Two Guvnors wasn't that difficult to do the plotting as it had already been done by Carlo Goldini.
Why did you set it in Brighton during the 60s?
The credit for the show should go to Nick Hytner. It was his conception to do this old Italian Comedia Del Arte museum piece as a funky 1960s beat band comedy with music hall turns. If the book works – I don't mind taking the credit for that. Skiffle was my idea – so I'll take the credit for that. I originally wanted to set the play during the second world war. I was hung up by the food. In the first half, the central character of Frances is driven by hunger. No-one in the 60s was that hungry – you could always get a slice of bread and butter. It was still food. Whereas in the second world war, people were hungry, and it would have been a drive. It could have been set in the blitz and it wouldn't have been so good. Well done Nick, you won that argument.
I don't think anyone in the audience thinks – it's 1963 – how can anyone be that hungry? We get away with it.
Are you surprised by the play's success?
Well, I can't honestly say I'm surprised. I didn't have any particular hopes for it anyway. What has happened has been fabulous. When you write a play and want to get it on, you don't think – will it be still on and will it go to Broadway. You think – will it survive the first or second night. When we were in the rehearsal room Nick arranged two performances with audiences. On the Thursday, we invited about 80 children into the rehearsal room. It was kind of alright, but not that good. For some of Frances Henshall's long surreal speeches, the kids didn't get it at all. We did quite a lot of cuts, and had another school coming in the next day. We did those cuts and the show absolutely stormed it with those school kids. It made us a lot more confident to go into technical rehearsals the next week.
The first preview was such a knock out, despite technical problems in the first week. We guessed it would be a hit.
Bradford Box Office: 01274 432000