Manchester Pride – Financial Hardship Tickets

Manchester Pride has announced that it will be releasing 300 day tickets for the Big Weekend, available to Greater Manchester residents who are undergoing financial hardship.
The award-winning lesbian, gay, bisexual and transgender (LGBT) event is offering limited reduced price tickets to individuals who cannot afford to purchase a standard ticket. The tickets will cost £5, with monies going directly to the Manchester Pride Community Fund.
Mark Fletcher, Chief Executive for Manchester Pride, said: "This year's Manchester Pride Festival, which starts on Friday 22nd August, is all about LOVE and we want everyone to have the opportunity to be a part of it, regardless of their financial status.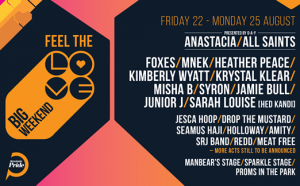 "We are keen to make a real difference and we hope that this initiative will make the whole event more inclusive for the wider community."
The idea to release the 300 £5 tickets was originated by the Manchester Pride Community Collective which provides the opportunity for individuals representing community organisations and groups to act as an advisory body for inclusion at Manchester Pride – from planning and implementation to design and delivery.
Manchester Pride raises money for LGBT and HIV charities and projects within Greater Manchester and is one of the only UK Pride events to consistently do so. Since 2003, it has raised and distributed over £1.1million.
The theme for Manchester Pride 2014 is LOVE and will be rolled out across the festival, whether it be to honour the same sex marriage act, or challenge the final pieces of the legislation.
For more information visit the website at ManchesterPride.com