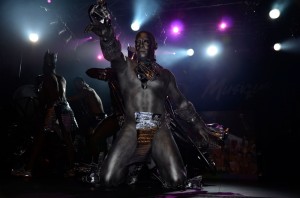 Grab your shades and get outside: it's summertime in Montréal!
They've got an amazing LGBT season lined up (August is Montréal's pride month – mais oui!), with Pride and Divers/Cité celebrations rocking out the sunny scene. T-dances, drag shows, DJs and more: it's a summer tailored to party people!
Montréal is an international leader in advancing the rights of gays and lesbians. This annual event reflects this reality by showcasing the popular Pride Parade, Community Day, and five days devoted to a free cultural festival in Parc Émilie-Gamelin. The program unfolds in three areas: community, human rights, and culture and festivities, with more than 65 activities.
Divers/Cité 28thJuly to 3rdAugust – A very unique LGBT event. Seven days of outdoor activities happening in Montréal's urban core…
Montréal Pride 11th to 17thAugust – The event features a Community Day, the annual Pride Parade and more fun in the Village.
Fugues se souvient On now to 31stAugust – A testimony to the evolution of the GLBT community within Quebecois society.