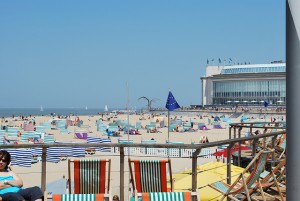 The Belgian Brighton? Adrian Gillan jumps on Eurostar and falls in love with Ostend – 'Queen of the Belgian Coast' – also taking in grand capital, Brussels, along the way…
 Colonial Belgian monarch King Leopold II undoubtedly plundered the late 19th Century Congo to amass vast wealth to help embellish not only Belle-Époque Brussels, but also a grand seaside retreat in Ostend – the latter now mainly appreciated for its beach, seafood, history, architecture and art, plus scene!
And there's obviously no faster, greener or easier way of reaching either city than via Eurostar, taking you – plus your generously proportioned baggage – from the centre of London direct to the centre of Brussels, and your hotel, is scarce two hours; and then – not least with an inclusive Eurostar 'Any Belgian Station' ticket – on to Ostend in just a tad over one hour more! A kind of Belgian Brighton!
STAY
Base yourself at the stylish boutique Avenue Beach Hotel (Koninginnelaan 27, 8400 Ostend; T: +32 59 80 55 44;) with its light-and-airy yet fun and quirky maritime design, including beach huts and deck chairs on the rear lawn; plus relaxing wellness spa "villa".
SEE & DO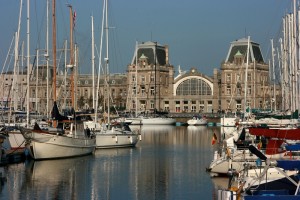 Many of Ostend's attractions are absolutely free – most obviously the vast, wide and gloriously sandy beach and North Sea; but also the boat-brimming harbour and marina, and impressive seafront promenade – dominated by its eye-catching 'Rock Strangers' sculpture and modern Kursaal entertainment complex, plus grand old Thermae Palace (hotel) and elegant walking 'galleries'.
Additionally, the fab-value Ostend City Pass grants access to other top local attractions, like:
Marvin Gaye iPod Walk (iPod from the Ostend Tourist Office, opposite the casino, at Monacoplein 2, 8400 Ostend; T: +32 59 70 11 99) – to, almost literally, follow in the footsteps of the legendary musician who once lived in town, even composing mega-hit 'Sexual Healing' here.
James Ensor House (Vlaanderenstraat 27) – home of influential early 20th Century symbolist artist.
Mu.Zee (Romestraat 11) – excellent museum of modern art, majoring on local artists James Ensor and Leon Spilliaert, amongst others.
Ostend City Museum (Langestraat 69) – for more in-depth local historical background.
Mercator – three-mast former cadet training ship.
Amandine – former North Atlantic fishing trawler.
Fort Napoleon – historic coastal bastion with iPod walking tour, also boasting a fab eatery (see below). Reached by regular free ferry to/from the harbour's East Bank (Oosteroever).
EAT
Ostend Queen (Kursaal, Westhelling 12, 8400 Ostend; T: +32 59 44 56 10;) – dine-on-high atop the Kursaal complex on the seafront for utterly breath-taking beach views, mercifully more than matched by ace food and service.
Fort Napoleon Bistro/Restaurant (Vuurtorenweg, 8400 Ostend; T: +32 59 33 21 60:) – feast amidst battlements, inside by bar, 'out' under glass or aloft on terrace.
De Mosselbeurs (Dwarsstraat 10, 8400 Ostend; T: +32 59 807 310;) – glut on a vast variety of oyster dishes, and other fare, again with top-notch service.
La Galleria (James Ensor Gallerij 30-32, 8400 Oostende; T: +32 59 700 150;) – binge on yet more seafood, trying not to be put off by the tank of understandably edgy lobsters all awaiting the hot pot!
Note: Keep an eye out for eateries participating in the 'A l'Ostendaise' project whereby chefs utilise some more unusual local catches in their seafood menus.
SCENE
Ostend punches well above its gay weight for a town of this size, with all venues concentrated very close to each other, slap bang in the centre. Try any of the many stylish-yet-ambient café-lounge-bars in town, like Bar La Bar (Hertstraat 20); Cycloon (Bonenstraat 111); De Strano (Kapucijnenstraat 40); Ding Dong (Groentemarkt 15); Recto-Verso (Sint Franciscusstraat 14); 't Pleintje (Petrus en Paulusplein) or Your Place (Aartshertoginnestraat 12;). For something perhaps a tad cruisier, try Bonaparte (Ooststraat 55) or Valentino (Kaaistraat 21). Additionally, keep a look out for social and other activities organised by excellent local LGBT community hub, Rainbowhouse Polaris Ostend .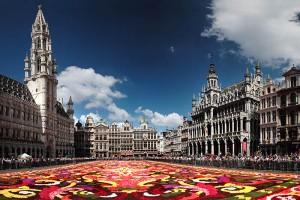 BRUSSELS
From mussels with chips to muscles with zips, if visiting Ostend, you'll doubtless want to spend at least a day, en route, in Belgium's capital Brussels – both cities just 1 ¼ hours apart by regular local train, return fare included in your main Eurostar 'Any Belgian Station' ticket for Brussels!
STAY
Settle into the fun Vintage Hotel (Dejonckerstraat 45, 1060 Brussels;) with its retro style and nice café-bar, in a trendy district just east of centre. You can even 'glamp' out in a flash old camper van in the courtyard – for extra fun!
SEE & DO
Cute young Eurobods and Franco-Flemish lads well and truly pout and sprout in Brussels' bijou café-bars, not least around the Old Town, with its famous pissing-boy fountain, the Menneken Pis, and expansive, cobbled medieval Grand Place. Paris minus the bustle, this intimate city has all that phallic Gallic continental charm, but on a very human scale.
Buy a great-value Brussels Card (for 24/48/72-hours) for access to many top local attractions, plus local transport.
Take in the imposing 18th/19th Century imperial district – with its BELvue national museum; Magritte Museum; Palais Royal; Palais des Beaux Arts (BOZAR); and other museums in the Parc du Cinquantenaire (avoiding the dull bureaucratic 'EuroZone' en route). Plus ascend the 50s-futurist Atomium structure on the outskirts of town, easily reached by tram – always good for a laugh!
Check out some of Brussels' many other characterful districts. Window-shop in the trendy Dansaert fashion zone; browse for art in the galleries of Sablon; or take in gorgeous Art Nouveau sites in chic Chatelain.
EAT
La Guinguette en Ville (Place du beguinage 9, 1000 Brussels; T: +32 2 229 02 22) – small, cosy ambient eatery just north of centre in the Saint Catherine district.
Taverne du Passage (Koninginnegalerij 30, 1000 Brussels; T: +32 2 512 37 31;) – classy Art Deco restaurant in the main posh old 'galleria' near the Grand Place.
SCENE
And the Belgian capital's sizable gay scene awaits…
Traditional pub Le Belgica (rue du Marché au Charbon 32;) is the old boy on the block but still one of the most popular to get the night buzzing. Or sample Tels Quels (rue du Marché au Charbon 81;), a queer cultural centre by day that magically transforms into an ambient if not overly-raucous café-bar by night.
 There's also a nice bunch of more continental cabaret-focused venues like Chez Maman (rue des Grandes Carmes 7;) for a camp concoction of nightly "spectacles" or DIY karaoke. And don't miss a chic clutch vying for gay pretensions: saucily-named L'Homo Erectus (rue des Pierres 57;) is one of the oh-so-trendiest, plus "refined" brother L'Homo Erectus Classicus (rue du Marché au Charbon 5;) or youthful buzzing Boys Boudoir (rue du Marché au Charbon 25;).
 Behold: yet more variety on the scene – this time for those all hot 'n bothered, beleathered or booted-up with nowhere to go! Manly men head for the all-male oft-nude likes of Stammbar (rue du Marché au Charbon 114; – also hub for Brussels Bear Pride) or Duquesnoy (rue Duquesnoy 12;). But it is well worth planning your entire Brussels weekend around La Démence (rue Blaes 208;) – the country's biggest gay club night that materialises ad lib – check their website – about once a month!
If you still fancy letting off steam, day or night, Macho sauna (rue du Marché au Charbon 106; ) is one of the largest, most central and established wet joints. Or gents oft "take airs" in the Parc de Bruxelles – not least amidst sunken shrubs near the pond facing the palace!
 GETTING THERE WITH EUROSTAR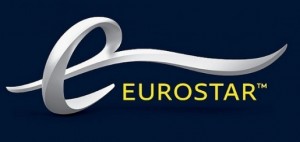 Eurostar operates up to 9 daily services from London St Pancras International to Brussels Midi and, from there, passengers can use their 'Any Belgian Station' ticket to connect on to local services to their final destination, such as Antwerp, Ghent, Bruges or Ostend. Fastest London-Brussels journey time is 2hrs. 'Any Belgian Station' tickets cost from £79 return (or from £69 return, to/from Brussels only). Tickets are available from Eurostar's website or 08432 186 186.
 Standard Premier tickets to Brussels start from £189 return and offer the freedom to work, think, or simply unwind in calm, spacious surroundings with on-board staff offering a light meal and a selection of magazines. Business Premier tickets to Brussels start from £490 return and offer fully flexible fares, 10 minute express check-in and business lounge access, along with the perfect working environment in dedicated, comfortable surroundings on-board and new on-board menus designed with Michelin star chef Raymond Blanc.
 Eurostar travellers to Paris, Brussels and Lille can also take advantage of 2 for 1 entry into paying exhibitions and permanent collections at some of those cities' most popular museums and galleries, all by simply showing their Eurostar tickets on entry. Participating Brussels galleries include Bozar, the Royal Museums of Fine Arts of Belgium and the Magritte Museum.