Manchester Pride seeks Volunteers

Not in a gaydar or Grindr type of way but in an Olympics, 'Games Makers' kinda way.
Applications are now open for those interested in becoming volunteers across the 2014 Manchester Pride festival.
The award-winning lesbian, gay, bisexual and transgender (LGBT) event is seeking out hundreds of people to become 'Pride Stars' and help deliver this year's festival. 'Stars' can apply to fill a range of roles, from Big Weekend Crew and Artist Liaison, to Marketing and Promotions.
Chief Executive of Manchester Pride, Mark Fletcher said: "Our volunteers make a huge difference and are an integral part of the successful running of Manchester Pride. Be it helping us raise money through bucket collections, assisting our visitors in navigating the site or being on hand during the parade, every volunteer has a vital role to play.
"There are loads of opportunities to get involved and make a real difference while meeting new friends, or learning some brand new skills. The events we host could not happen without the enthusiasm and dedication of the people who offer their valuable time in this way. We look forward to welcoming this year's wave of new volunteers."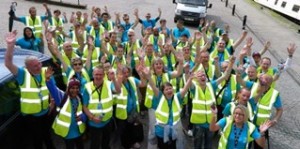 Online applications are open now to everyone who would like to volunteer. Visit manchesterpride.com/takepart to apply. Early submission is being encouraged to avoid disappointment.
The theme for Manchester Pride 2014 is LOVE and will be rolled out across the festival, whether it be to honour the same sex marriage act, or challenge the final pieces of the legislation.
Volunteers' Week is an annual celebration of volunteering, this year celebrating the 30th Anniversary in Northern Ireland! The theme for this year is Time To Say Thank You – offering communities the chance to celebrate and recognise their local volunteers and challenge people to take part.
To find out more about Manchester Pride and this year's festival you can follow the charity on Twitter @manchesterpride or visit the website at manchesterpride.com