Travel – Coasting it in Dorset!

Bored of Bournemouth, that gay mecca of Dorset's East? Instead, Bent's Adrian Gillan hugs the lovely coast, and blokes, of West Dorset – from Lyme Regis to Weymouth!
So much quicker to reach than Cornwall! With its natural beauty, rich history and gorgeous guys, what could be nicer than a long gay weekend, this summer, down in the "near South West"?
LYME REGIS
 Dating back to the Domesday Book, royal-titled Lyme Regis lies in westernmost Dorset, near its border with Devon, at the mouth of the mill-powering River Lym, as it empties into the English Channel. The town is perched on the South West Coast Path (www.southwestcoastpath.com), above one long fossil-brimming World Heritage Site, dubbed "The Jurassic Coast", where strata spanning 185 million years of our planet's history become exposed. Emigrants from Lyme Regis once set sail to colonise Bermuda; and news of Nelson's victory at Trafalgar came ashore here. Jane Austin was a fan; and long-time former resident John Fowles' novel and film, The French Lieutenant's Woman, is set here. The town's Victorian rail connection was given the chop in the 1960s so it's now reached by regular bus service from nearby rail station, Axminster. Despite mercifully retaining a magically cut-off quality, Lyme Regis' now mere 3,500 population is still swollen manifold by tourists, not least in summer.
STAY
Combining historic charm and modern luxury, Dorset House (Pound Road, Lyme Regis, DT7 3HX; T: 01297 442055; www.dorsethouselyme.com) is way more than just a B&B, boasting the elegant surroundings of a newly-renovated Grade II listed Regency villa, overlooking the Dorset coast. Its five stylish and highly individual guest rooms offer coffee making facilities, TV and radio, iPod docks, complimentary Wi-Fi, bathrobes and even REN toiletries – plus amazing walk-in showers!
Get your day off to a great start with a tasty, relaxing and healthy breakfast around the communal table, gorging on local, fresh, organic fare! Relax in the chic palatial lounge area, or out on a table overlooking the garden. Charming, friendly couple Jason and Lyn are your perfect hosts!
EAT
Feeling peckish? Check out the Town Mill Bakery (www.townmillbakery.com) for lighter bites; Tierra Kitchen (www.tierrakitchen.co.uk) for veggie fare; Hix Oyster and Fish House (www.hixoysterandfishhouse.co.uk) for fishy dishes with lofty bay views; or Turles (www.turleswinebar.co.uk) basement bistro for great all-round grub, service and vibe.
SEE & DO
Lyme Regis' picturesque harbour, or "Cobb", which has been rebuilt several times over eons, dates from the 13th Century and was, by the late 18th Century, larger than the Port of Liverpool – but then rapidly declined. Its fortunes revived as a medicinal spa town, based on the supposed benefits of drinking, and bathing in, its sea water. And tourism has played a major role ever since, more recently hubbed around the small sandy beach and Cobb, hemmed in by bustling bars and eateries.
Saunter right up to the end of the Cobb's sloping, curvy wall for your very own private "Meryl Streep moment"; not forgetting to then safely descend the "Granny's Teeth" steps on the way back – that character Louisa Musgrove in Jane Austin's Persuasion so unfortunately falls down!
Excellent little Lyme Regis Museum (www.lymeregismuseum.co.uk) explains more of the local and natural history of the area – including the civil war siege and the infamous Monmouth Rebellion – and is housed on the site of the birthplace of famous fossil-hunting pioneer, Mary Anning (1799–1847), whose grave lies in the nearby parish churchyard. Dinosaurland Fossil Museum is housed in the former church where Anning was baptised – great for kids!
Take one of the many historical or fossil-hunting walking tours seemingly on offer all around – one of the best historical jaunts being with knowledgeable Chris Lovejoy (www.lymehistorywalks.com). For a cooling adventure by foot on a hot day, take the coastal path west out of town through the luscious well-nigh tropical Undercliff national nature reserve, quite possibly the UK's nearest thing to a jungle!
Elsewhere, Town Mill, powered by the Lym, has been restored to working order, now forming the heart of an arts, craft and eats complex; a harbour building has been converted into a marine aquarium displaying local sea life; and the Marine Theatre stages a variety of live events, mainly amateur.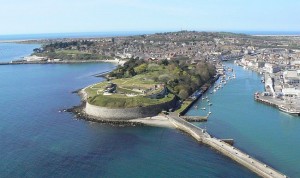 WEYMOUTH
 Scarce 30 miles east along the coast from Lyme Regis lies sizeable 50,000-populated Weymouth, on a bay at the mouth of the River Wey, naturally sheltered by the vast sweep of 18-mile-long Chesil Beach, the Fleet lagoon backwaters and the Isle of Portland – the latter itself connected to Weymouth by a tombolo-flanked road. The regular Jurassic Coast Bus Service (X53) connects Lyme Regis to Weymouth, with unlimited-travel hop-on-off day tickets offering especially great value.
Weymouth Harbour, guarded by Victorian Nothe Fort, now a museum, is home to cross-channel ferries, pleasure boats and private yachts; and nearby Portland Harbour is where the sailing events of the 2012 Olympic Games were held.
The Black Death first arrived in England via Weymouth, off a boat; emigrants from here helped colonise Massachusetts and Nova Scotia in North America; and Christopher Wren was the local MP, using the famous Portland Stone in many of his great buildings, including St. Paul's Cathedral. Weymouth became a favourite holiday resort of George III whose colourful gold-gilt statue stands on the seafront; Thomas Hardy once lived and wrote in town; the Bouncing Bomb was tested in the Fleet lagoon behind Chesil Beach; and countless D-Day craft, carrying over half a million troops, left for Normandy from Weymouth's harbours.
STAY
Just ten minutes' walk from Weymouth town centre and beach, and open all year except New Year, the family-run gay-friendly 4* AA Florian Guest House (59 Abbotsbury Road, Weymouth, Dorset DT4 0AQ; T: +44 (0)1305 773836; M: +44(0)7460442166; http://guesthouse-weymouth.com/) offers free parking out front, Wi-Fi throughout and a sunny garden to rear. Run by lovely Sue and Dave!
There are king, double, twin and family rooms, all with either en-suite or private shower rooms; and all with Freeview TV and DVD player, radio alarm, hairdryer, tea, coffee, hot chocolate and a mini fridge! Fab breakfasts too! Dave even runs a charter fishing boat, Atlanta (www.atlantafishing.co.uk), out of Weymouth marina – for groups and individuals angling for some real sea fishing!
EAT
For a rustic vibe, try Stable Pizza, Cider & Pies (http://stablepizza.com/home/the-stable-weymouth/); Dorset Burger Company (www.thedorsetburgercompany.co.uk); or Handmade Pie & Ale House (www.thehandmadepieandalehouse.com).
For a more refined, seafront dining experience, try Floods Restaurant (http://floodsrestaurant.co.uk/); or Oasis Bistro (http://oasisweymouth.co.uk).
SEE & DO
Weymouth's Georgian-terraced esplanade looks out onto Weymouth Bay and beach, and boasts a Victorian multi-coloured Jubilee Clock plus revamped Art Deco pier bandstand (minus pier).
The town centre is hubbed around Weymouth Harbour, both outer and inner. The latter has a marina from where local boats offer fishing and diving trips, pleasure cruises, and even high-speed thrill-rides to the Isle of Portland.
Enjoy local history at the Timewalk museum in buzzing Brewers Quay; or at reputedly-haunted Victorian Nothe Fort (www.nothefort.org.uk) museum at Weymouth Harbour entrance; or at tiny Tudor Portland Castle (www.english-heritage.org.uk/daysout/properties/portland-castle/), overlooking Portland Harbour of Olympics fame. Catch a show at the Pavilion Theatre.
Walk (30-40 minutes) or cycle (15 minutes) to Chesil Beach (www.dorsetwildlifetrust.org.uk/chesil-beach-centre.html) using the Rodwell Trail – along a picturesque old former railway line from Weymouth to Portland. The whole area's cycle routes are extensive and well-signed. For a wide range of guided or self-guided bike trails and bike hire, use the excellent Jurassic Trails Cycle Hire (T: 01305 836 428; www.jurassictrailscyclehire.co.uk), enjoying their spanking new fleet of top machines. For kayak and other water-based fun along these dramatic Dorset shores, use Jurassic Coast Activities (T: 01305 834 951; www.jurassiccoastactivities.co.uk) – with its handsome, hunky, oh-so-helpful staff!
SCENE
Of course, we all know Bournemouth, with its Pink Triangle, is Dorset's undisputed Gay Mecca. But for truly local lads, Weymouth has just opened gay joint, The Closet (www.closetweymouth.co.uk), which is anything but that, once you descend into its outrageous basement lair, with bar, lounge and dance area, plus a lengthy list of saucy cocktails – why not try a Leg Spreader or Harvey Bum Banger for size? The Rock (www.therockweymouth.com) pub also has out-and-proud landlords, with nightly food deals.
A short drive north of Weymouth, Dorchester has gay-friendly Cafe Jagos (www.cafejagos.com) which morphs into a gay-dominated bar on Friday and Saturday evenings 'til late; and that town also has a well-supported Pride event every August: the Dorchester Love Parade!
For more on accommodation, activities and attractions in West Dorset: www.visit-dorset.com
You can reach a range of stations on the West Dorset coast (including Weymouth direct; and Axminster station for Lyme Regis) effortlessly from London in under 3 hours on South West Trains: www.southwesttrains.co.uk
Comments via Facebook
comments