Bent USA – GaysWithKids.com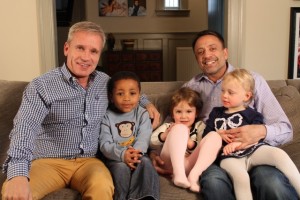 Photo Graeme Coleman
 Gays With Kids, a first-of-its-kind website to help gay dads navigate fatherhood − from creating their families to raising them − will launch today in time for Father's Day and this year's Pride celebrations. 
Co-founded by Brian Rosenberg and Ferd van Gameren, husbands and proud fathers of three children, the online community aims to normalize the experience of gay parenting by sharing stories, news, advice, and in-depth reporting on topics of interest to gay dads, many of which are typically not covered in mainstream media. Gays with Kids also hopes to inspire a whole new generation of gay men who are interested in raising children.
"When we adopted our first child five years ago, one of the first things we did to help us prepare was search the Internet to try and connect with other gay dads so we could learn from their experiences," explains Rosenberg. "We were surprised to find there were no sites or resources available."
"We felt isolated because we had no community of gay dads to turn to and with whom we could identify, and we also felt alienated by all the mom-centric focus," adds van Gameren.  Everywhere they turned they saw phrases like "mommy tested-mommy approved" or "for moms by moms" and they even shopped in stores called "From Bump to Baby" and "Moms to be and More."
They knew they could make a change, but put their idea on hold to concentrate on their toddlers. Four years later, they are ready to launch GaysWithKids.com to help other gay dads succeed as fathers.
Rosenberg and van Gameren adopted their son Levi and welcomed twin girls Sadie and Ella through surrogacy, so they have first-hand knowledge that gay men travel many different paths to becoming dads. A key part of Gays With Kids will explore these paths so that every gay father feels represented.
Other regular features of Gays With Kids includes:
Family Spotlight  series to share the wonderful breadth and diversity of gay dad families, one family at a time
Gay Family Showcase Carousel will collect photos of gay dads with their kids from all over the world, as Rosenberg and van Gameren believe there's great strength in numbers
The largest community of gay dad bloggers anywhere, sharing their every day experiences
Professional gay dads providing insight and tips on various issues related to being a gay dad that is based on a combination of industry and personal experience
Other writers and journalists covering anything and everything having to do with being a gay dad – Gays With Kids will not shy away from topics!
While gay dads are becoming more conventional, there is still a lot of work to be done to end both "Dadscrimination," and "Gay Dadscrimination," especially in areas where gay families are viewed as less than equal because gay marriage or gay adoption are not legal.
"As dads, we share all the universal truths and challenges of parenting that are experienced by dads and parents everywhere, regardless of gender or orientation," Rosenberg said. "But, as gay dads, we face many other truths and challenges that are uniquely our own, and it's incredibly empowering to be able to do so as part of a robust and vibrant community."