Leeds Rhinos player banned for five matches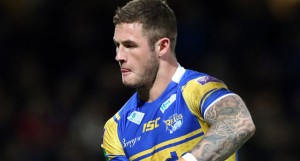 Photo: Leeds Rhinos
An independent tribunal has imposed a five-match suspension on Leeds Rhinos player Zak Hardaker after finding him guilty of the Grade E charge of using verbal abuse based on sexual preference in a First Utility Super League match against Warrington Wolves at The Halliwell Jones Stadium on Friday 30thMay.
The player was reported after he called a player a "fucking fag" during a match, although the inference appeared to be directed at the match referee James Child. The grade E offence of "using verbal abuse based on race, colour, religion, gender, sexual preference, national or ethnic origin", is taken very seriously by the RFL who control the game.
Hardaker pleaded guilty to the offence but denied aiming his remarks at a match official and claimed he was unaware of the connotations of his remarks.
The tribunal accepted that the player is not homophobic but were satisfied that the remarks were made to the match official.
In handing down a five-match ban and £300 fine, the tribunal took into consideration the player's contrition, his guilty plea and evidence that he is undertaking voluntary work within the LGBT community.
Hardaker said: "I would like to apologise for any offence my comments during that game have caused.
"In the heat of the game, I have used an offensive term and I can honestly say I was deeply saddened when I found out after the game how it had been perceived.
"As professional players, we know that we have an obligation to conduct ourselves in the right manner for the good of the game at all times, that includes with our team-mates, opponents, officials and, of course, supporters at the ground and those watching at home on television, and my comments fell below those standards… Clearly certain words have powerful meanings other than that intended at the time."