Brighton Bear Weekend Approaches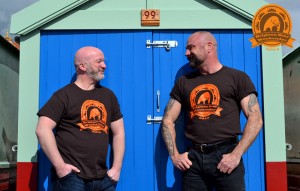 Brighton Bear Weekender began as a small local event in the summer of 2011, bringing bears and admirers from the Brighton area together for a weekend of social events. It has grown steadily since, attracting around 300 men from the UK and beyond in 2013. Now in its fourth year, we expect it to be bigger than ever!
This year's Bear Weekender will run from Friday 20th to Sunday 22nd June . The events will include a Welcome Night with cabaret, the Bear Cave and Come to Daddy club nights, the Bear Shaft evening disco, the delightful Picnic in the Park (with superb food from local charity Lunch Positive), breakfast with the bears, a Sunday Roast lunch (or if you prefer, the alternative Sunday Roasting at Brighton Sauna), the Fur Foam Party at Brighton's popular cruise bar Subline, drinks on the sunny terrace at Legends, and more. For those arriving early, there will also be a bears' Quiz Night on Thursday 19th June at local ursine hangout the Camelford Arms (affectionately known as "The Toe" by locals).
There's no need to register; some events have a small entry fee, but an optional £5 wristband will bring you discounts on these, some great drinks deals at the event venues, and discounts at Prowler and Brighton Sauna all weekend.
If you have any free time at all over the weekend, you can enjoy Brighton's many attractions, including the pier, the prom, the Brighton Wheel, the beaches (including the famous nude beach) and a huge number of superb restaurants. Brighton is very busy during the summer, so be sure to book your hotel room early!
All profits from the weekend will go to the Rainbow Fund, a charitable fund for LGBT and HIV/AIDS organisations in Brighton and Hove. Last year we were their second biggest fundraising event (after Brighton Pride), raising over £2800 for this wonderful cause. All proceeds from the sales of our wristbands, t-shirts and hoodies (available in advance from our online shop, and on the weekend itself while stocks last), as well as the wonderful raffle (with tons of wonderful prizes including champagne, gift vouchers, theatre and movie tickets, and afternoon tea for two at the Grand Hotel) will help us to raise even more this year! Our t-shirts and hoodies are limited editions with a new design every year.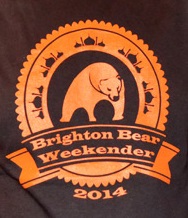 So if you fancy a fun-packed, fur-filled weekend of frolics in the sun with the bears, come on down to Brighton Bear Weekender!"
Full details of the weekend's events and venues, can be found on our website at brightonbearweekender.co.uk
You can also search for Brighton Bear Weekender on Facebook and Twitter and follow us for the latest information.