Get ready – Amsterdam Gay Pride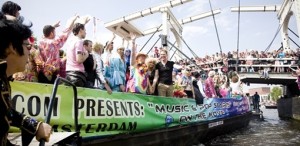 Image: © Marjolein van Veen
Amsterdam Gay Pride is a huge celebration of devotion towards equality for the gay, lesbian and transgender communities, held in late July and early August every year. Read on for more information about this flamboyant citywide event!
The canal parade begins on 2 August 2014 after a week of parties and events leading up to this blowout weekend of festivities. Amsterdam's famous liberal-mindedness over the years has encouraged a welcoming and safe environment for gays, lesbians and transgenders to both visit and live in. The city's gay rights history, from early-day tolerance to modern Mayoral celebrants has meant Amsterdam has always been at the world forefront in striving for equality for the gay community.​
As a result Amsterdam Gay Pride remains one of the biggest and best celebrations of its kind around the globe. It traditionally takes place around the first weekend of August every year, drawing more than 350,000 gay and straight participants and visitors to stay and play in Amsterdam. The city is a rainbow of events in gay and straight venues alike, from dance parties to film festivals, sporting events, culture and more.
Amsterdam Gay Pride parties & events
During Gay Pride, Amsterdam is bursting with special parties, events and activities. We'll add our selection of event highlights here nearer the time and you can also head to the Amsterdam Gay Pride website for the low-down on what's happening across the city.
Amsterdam Gay Pride Canal Parade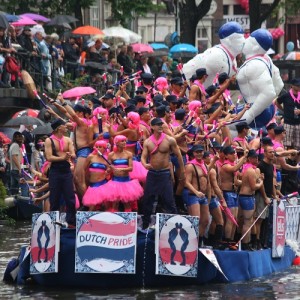 The canal parade is the festival's centrepiece, where lavishly decorated barges give the term 'float' a literal meaning. On the Saturday of the festival, participants on 80 vessels soak up the Dutch sun and put on a show with their onboard DJs, show-stopping themes and plenty of smiles, pleasing all spectators on the banks of the Prinsengracht and Amstel River. Smaller boats line the canal walls and at the mouths of adjoining canals, enjoying the party by shimmying up to each other, forming a huge flotilla of fun.​
Alternative Amsterdam Gay Pride events
An annual spectacle is the Drag Queen Olympics​ with events like the Stiletto Sprint, Handbag Discus and the 'Tug of Love'. Like a dressage competition, looks are as important as sporting prowess. All kings and queens are welcome on this rearranged yet even playing field, taking place at the Homomonument.
As always, Amsterdam Gay Pride is open to all, be they male or female, and ladies are invited to gather at any time at the L-Meeting Point at Saarein, which is the base for LesBian Pride. Special events are traditionally also hosted at IHLIA, the city's gay archive and library, and also on the sixth floor of the Amsterdam Public Library (OBA).
Events are essentially for all ages, but the festival's Grey Pride programme provides debates and performances that are geared towards a more mature audience.