Bump – London's sexiest club night

Bump's magic lies in the fact this is a party organised by gay clubbing fans for gay clubbing fans. Drop your attitude at the door (with your coat check) before you crowd into the lift with other Bumpettes to the fifth floor. Bump has taken up residence in the recently refurbished Level 5, 1 Leicester Square, taken over in January 2014 by entrepreneurs and clubbing enthusiasts Chase McGuinness and Andy Scott. The forward thinking pair spent £100,000 renovating the 5th floor adding VIPs toilets, deluxe booth seating and state of the art sound system, creating a perfect party space.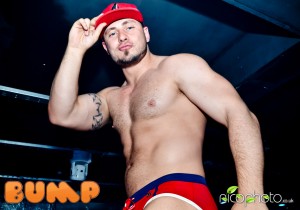 Once inside the Bump disco station, guests are treated to a state of the art sound system to showcase our carefully selected Bump star DJs. Only the chosen few get to play at Bump. New in town Spanish legend Gretta Gargola has seen her DJ star skyrocket with bookings at Beyond since her arrival here six months ago. It is at Bump where Gretta is her element though. Incredible song selection aside, her enthusiasm for pumping house music induces screams behind the DJ decks as the crowd rip their tops off in appreciation.
Joining her, hunky Brazilian Ale Amaral knows how to get a party going with a fierce mix of latino inspired fiesta beats with a Circuit party edge. When Ale is spinning there is no sitting down for anyone. Every week we are treated to an awesome set list that make it impossible to not feel the excitement – it's this buzz that has everyone talking about Bump.
Our latest recruit is tall, sexy and from Brazil too, Arnaldo Novais has played at London's biggest gay and straight venues. Like Ale, Arnaldo knows how to build the party and push it to the next level – a zone where the music is so relentlessly good you literally cannot get off the dance floor. That's how we roll at Bump folks.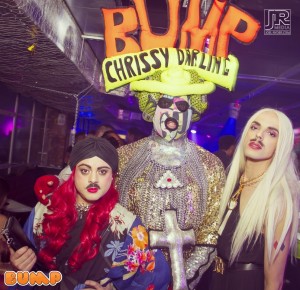 The DJ superstars are joined by a plethora of the scene's finest identities. We recruit and rotate hosts who share our enthusiasm. These are carefully chosen from scene queens, porn stars, drag acts, performers and even our regular customers. Having a half dozen hosts each week means every Bumpette is looked after! This list so far includes porn legend Justin King, drag star Heidilicious, mega hosts JJ Clark, Mark Cassar, Steven Galo, Boyz door host winner Chrissy Darling, scene clubbers Barry Campbell, Andre Hellstrom, Samantha Renke, drag diva Gley, scene photographer Nico, our guest list Bumpette Javier Stones and let's not forget our weekly table service legend the moustached Luke Lafelle. We love our hosts and they love Bump.
Each week Bump is promoted with a specially chosen theme, coming up over the next few months we have parties to celebrate Gay Pride, Fetish Week and American Independence Day. The weekly artwork and dance acts reflect the theme and over time we are look to add to the production as we can afford to spend more. No cutting corners here. The bigger the Bump, the bigger we go with our weekly budget spend.
Brought to you by promoters Chris Amos (owner of Manbar) and Wesley Marilio (music producer and Manbar marketing guru), Bump brings the sexy boys to Soho every Friday night.
Venue: Level 5, 1 Leicester Square, London, Soho WC2H 7NA Entry Price: £10 / £6 concession list