Do you want to see your man in this?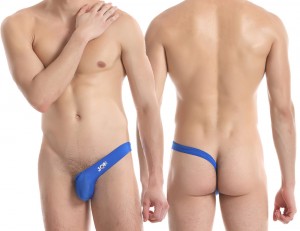 I blame Sacha Baron Cohen and his creation of The Mankini for this latest development in the next 'must have' for the beach. Yes, it's not off the shoulder but it is off the bum cheek and is the latest thing for a guy to be seen in.
For some it will look bizarre, while for others, it is the perfect opportunity to flash some flesh and help get that all over tan. Especially if you have a chum to wear the one for the opposing hip, then swapsies (the childish art of swopping) becomes de rigueur.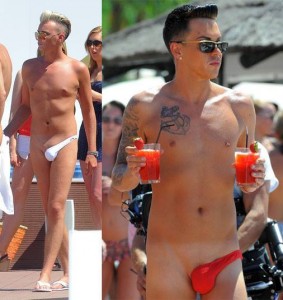 Recently, two of the stars of TOWIE, Bobby Norris and Harry Derbridge, were seen flaunting these little cock huggers in Marbella where they are filming. The matching swimwear does look sweet on the guys and if you're wondering how it is all anchored in place… you'll have to buy a pair to find out.
JQK sexy bikini thong jock 82% Nylon, 18% Polyurethane
Hand wash ONLY, slightly,cold water
The size for all underwear products are Asian size.
Please pay attention before you make order. M – 28-30" L – 31-33″ XL – 34-36″
http://shop.bent.com/catalogsearch/result/?q=jqk
Photo: Twitter
Comments via Facebook
comments