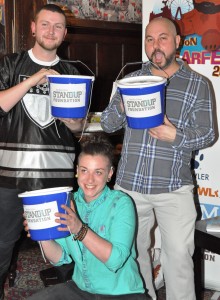 Last night the capitals first bear festival launched at the Kings Arms in Soho, the rain came down in buckets, but it didn't keep the crowds away. The night was a fundraiser for the Ben Cohen StandUp foundation and is supported by London Bearfest which starts 18th until 26th May.
London Bearfest dire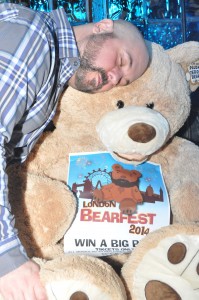 ctor Kurt Hoffman comments "The 'WIN A BIG BEAR' raffle was a massive success, we raised a really good amount for the StandUp foundation, a big thank you to all who came along and supported"
Lots of new and old faces came to the event and said that it was such great night! Upstairs in the VIP area the guests gorged on salt beef, smoked salmon & cream cheese bagels, we had one of each, yum!
Winner of the Taverns Got Talent, Doctor Woof wowed the crowds with his rendition of Kylie's, Better the devil you know! Singer Paul M got the guys happy and Meat boy Funnarr played the best DJ set we've heard for a very long time.
London Bearfest is definitely one to watch with over thirty events taking part in this eight day long celebration of London's bear scene which starts Sunday 18th May. Time Out says "it's one of the most exciting things opening in London this May".