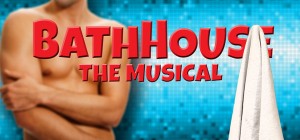 WARNING : This production contains steam, brief nudity and lots of bubbles!
Bathhouse the Musical, directed by Tim McArthur, opens at Above the Stag Theatre on Wednesday 18 June, brimming over with bubbles and clouds of steam … plus the occasional dropped towel!
Wide eyed and innocent our hero Billy heads for the Bathhouse looking for love…but he soon discovers the other patrons are seeking something rather more temporary! Join him on his rite of passage in this light hearted musical comedy.
A fun and frothy show Bathhouse the Musical went down well when we presented its UK premiere 5 years. Whatsonstage said, 'relentlessly camp celebration of pleasure-seeking… moving, raunchy and downright rude… will delight its target audience'. Since then it has also had productions in Paris and Montreal.
Bathhouse The Musical – a rib tickling, toe tapping, towel flicking musical! 18th June to 20th July
Above the Stag Theatre: Arch 17, Miles Street, London SW8 1RZ Box Office: www.abovethestag.com