Young Love in the cloisters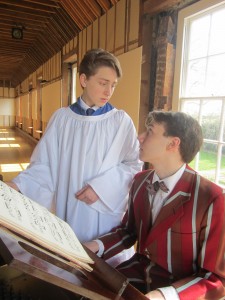 Sandel, a novel by Angus Stewart adapted for the stage by Glenn Chandler (creator of TV detective series Taggart) makes its London premiere on Tuesday 20th May at Above the Stag, having garnered 5 star reviews at last year's Edinburgh Fringe Festival.
The book was cult gay reading from its publication in 1968, and fetched up to £1,000 on Amazon recently having gone out of print over 40 years ago. Stephen Fry includes it amongst 'Unforgettable, transformative books' which he read as a teenager. Glenn explains he first read it by torchlight under the bedclothes hidden from his parents and was moved by its message of hope and pure love.
A potentially controversial piece it depicts the love affair between David Rogers, a 19 year old Oxford undergraduate, and Antony Sandel a provocative, precocious and beautiful cathedral choirboy.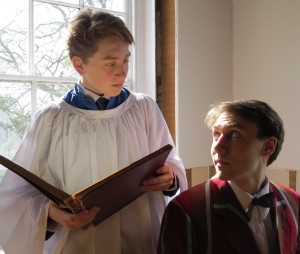 Glenn, whose recent work on the fringe has been eclectic and busy, says he enjoys the chance small scale theatre gives him to experiment and take creative risks, which no longer exist in TV. He says, 'you can do something totally off the wall which people aren't expecting. It's such fun'.
Recent projects demonstrate this clearly – a musical about the Victorian boy prostitutes in Cleveland Street, the letters of serial killers, a comic book satire set in a 1920's boys public school, and a return to his murder mystery roots with The Lamplighters.
The story is set in 1960's Oxford, and tells the story of a love affair between 19 year old undergraduate, David Rogers, and the precocious and beautiful Cathedral choirboy, Antony Sandel. When David is sent down after infringing college regulations, he is given a job as a teacher at the choir school – where Sandel is still a pupil. Add David's catholic friend Bruce, who is studying to be a priest, to the mix and the stage is set for a powerful showdown.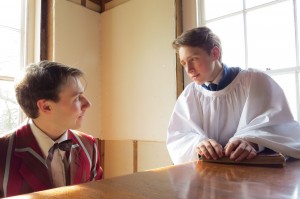 Though even more controversial today than it was in the 60s, Sandel is nevertheless very funny, witty and light-hearted, a tale about what love can do in any age when it takes over your life. The uncompromising ending left Edinburgh audiences stunned in their seats. Sandel is bound to both delight and shock.
Above the Stag Theatre: Arch 17, Miles Street, London SW8 1RZ