Travel – Thank you for the music, Brighton!

Voulez vous? And does your mother know? Bent's own little dancing queen, Adrian Gillan, takes a chance on the UK's queerest seaside resort, where – where else? – ABBA won Eurovision almost exactly 40 years ago, their undoubted springboard to pop mega-stardom!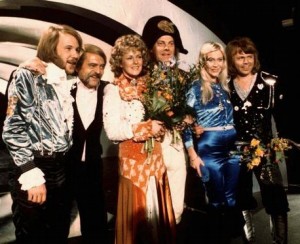 On one fateful night in April 1974, 40 years ago this month, an unknown Swedish group stepped out onto the stage of The Dome in Brighton to compete in Eurovision – the UK having only stepped in as hosts because Luxemburg had won twice in row and couldn't afford to hold it a second time! The foursome had failed in their bid to even be the Swedish entrant the year before, and didn't rate their own chances of getting that much further this year either. The Wombles were the show's interval act! But as the lights dimmed, Agnetha, Anni-Frid, Benny and Björn, sang Waterloo, shone, won and the rest is pop history! Put quite simply, on this extremely grateful Brighton ABBAversary: no Brighton, no ABBA!
It's not as though Brighton were a stranger to glamour and glitz. Randy royal raver Prince Regent (later George IV) escaped here from London back in the 1770s. Though straight – and no port or sailors here – he brought with him an air of flamboyance and devil-may-care that made Brighton a natural colony for rich queers in tow, some of whom doubtless liked to "touch the scarlet" of handsome cash-strapped soldiers then based at the barracks here. The word got out and in time thousands flocked to a pleasant place by a Southern sea scarce a skip from London but seemingly a million miles away. Some pubs down Middle Street were well known in the mid-20th Century amongst "theatricals" passing through, doubtless mixing with Pinkie-like racketeers and, soon enough, the odd Mod or Rocker! Yet it is only with legality in recent decades that a visible gay quarter has emerged: around St James Street and Old Steine, stretching along the front from the Palace Pier into Kemptown, or "Camptown" as now truly is!
STAY
The New Steine Hotel (10-11 New Steine;) is an elegant 5-story Georgian Townhouse with contemporary boutique design oozing warmth and style, with just a soupcon of French class! Nice rooms, some of which look out onto the grassy 'square' and down to the all-giving sea. Excellent, friendly and professional staff serve both the hotel and its hip Bar and Bistro, whose skilled kitchen creates delicious modern Anglo-French cuisine – don't miss the tasty duck!
EAT
Terre à Terre (71 East Street;) is a unique funky veggie eatery, cooking up intense tastes, gorgeous textures and imaginative combinations of ingredients that few would even dare dream of. Their highly-creative savoury and sweet 'teas' (i.e. food on tiered plates, to share) are a must!
The Royal Oak (46 St James' Street;) is a gay- and dog-friendly local in the heart of Kemp Town, with a big beer garden, and a hearty kitchen which truly delivers on Sunday lunch.
Bellota (165 North Street) is a very stylish and classy tapas and cava bar, near the Pavilion, well worth the visit.
SEE & DO
Free advance-bookable local volunteer greeters will happily give you your bearings in just two hours; or – for a charming and knowledgeable expert in gay history – book yourself onto Ric Morris' wonderful 'Piers & Queers Tour' (07931 847422) of 200-hundred-plus years of Brighton's LGBT History, in a mere fraction of that time, taking in Lord Byron, Oscar Wilde, Noel Coward, Terence Rattigan… Dusty Springfield! Or, for something necessarily less personal, more general, take a hop-on-off City Sightseeing Bus with running commentary. Or visit the fascinating Brighton Museum & Art Gallery's exquisite displays.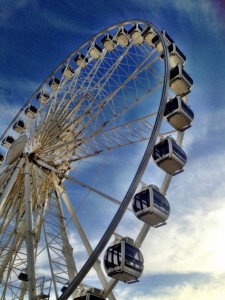 Browse the rambling cutsie cafés and shops in The Lanes quarter; gawp at the splendour of the Royal Pavilion; or take in a show or play at the ornate former-stables Dome, or 1807-built 950-capacity Theatre Royal (New Road;). Then head down to the waterfront to enjoy the fish in the Sea Life aquarium; stroll the Pier with its funfair; take a voyage on either the little old Volks Electric Railway or brand new lofty Brighton Wheel; or just loll on the famous pebble beach. If in town for a bit longer, venture along to the shops, bars and restaurants of Brighton Marina; or further out into the glorious surrounding Sussex countryside.
If you need to fully chill, treat yourself to a massage or treatment at The Spa at The Grand (The Grand, 97-99 King's Road; 01273 224313; spa@grandbrighton.co.uk), amidst chic yet plush surroundings.
SCENE
The Bulldog Tavern (31 St James Street), on St James Street itself, is the oldest gay venue in town still functioning. An ex-morgue, it's used to stiffs of all kinds and is rightly renowned for being a community hub. The Marine Tavern (13 Broad St;), just off on Broad Street, joins a crowd of other traditional Kemptown bars that generally cater for the older crowd. Or try the A-Bar (@ Amsterdam, 11-12 Marine Parade;) on the seafront, featuring regular drag shows, including the incredibly sexy Misty Lee. To rev up, the Queen's Arms (7 George Street;) – over on George Street across St James' – is still one of the campest pubs in town with regular drag and karaoke, for a drunken cheery mob. Bears abound at the still strangely stylish Camelford Arms (30-31 Camelford Street;). The buzzing Marlborough (4 Princes Street;) is, with its little 60-seat theatre, home to the Pink Fringe.
Bar Revenge (7 Marine Parade;) ups the style stakes with top views of pier and sea. Next door, Charles Street Bar (8 Marine Parade;) is the real style-meister hereabouts.
There are several devotedly-gay clubs in Brighton, each offering varied nightly flavours to suit all tastes. Legends (Basement @ 31-34 Marine Parade;) is a vast multi-million-pound-refurbished bar-club-hotel combo-complex, right on Brighton's seafront. Revenge (32 Old Steine;) is just about the biggest club in the south of England outside London – not that we want to compare ourselves with that place do we boys? – playing to a young, mainstream crowd across multi-floors; and vying with a host of regular rival nights at sundry venues elsewhere across town.
If you still need to let off steam – or get restless after Sunday lunch – TBS2 Sauna (86 Denmark Villas, Hove;) near Hove train station is a buzzing "male health" complex; or maybe try Brighton Sauna (75 Grand Parade;) up opposite the Pavilion. On a sunny day West Beach, between the two piers is the obvious place to bare nearly all. But more fun by far is the official, male-dominated nudist beach about a ten minute jaunt along the front towards the marina. And just back from said beach are the infamous Duke's Mound bushes. As ever, beware, not least at night.
Uniquely cosmopolitan amongst British seaside resorts, Brighton is a kind of mini London-on-sea, with none of your Blackpool tat! And – amidst a quintessentially English backdrop of mile upon mile of aqua-pastel promenade paint and a ghostly, burnt-out West Pier moored offshore against the blinding sun – G-A-Y, and ABBA, truly run through its soul as through a sticky pink six inch stick of candy rock!
Brighton Pride Parade is on Saturday 2 August 2014: www.brighton-pride.org