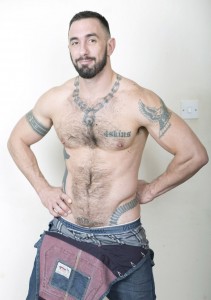 meat is a gay pinup print 'zine' featuring the very personal work of London based editorial photographer Adrian Lourie (adrianlourie.co.uk).
An idea formed over a greasy spoon fry-up one hung-over Sunday afternoon, meat was inspired by BUTT magazine and Adrian's desire to publish a printed magazine in the face of a culture dominated by online magazines and digital downloads.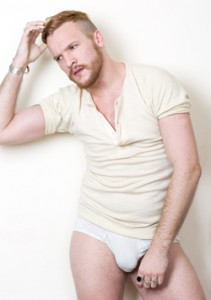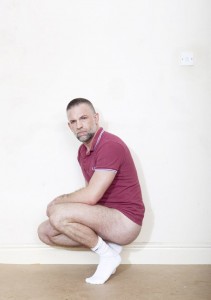 meat one was loosely themed as 'Models Own' and was a simple, black and white 12 page magazine featuring an eclectic collection of models, friends, Facebook acquaintances and Craigslist/Gumtree respondents. The only criteria being that the guys were hot and willing to drop their trousers and show off their underwear for Adrian and his camera. The result was a series of honest, humorous and sexy portraits exploring the diversity of London's gay men.
Proving an instant hit, meat one was quickly selling out in Prowler London as well as via an online blog entitled 'meat products.'
Racking up 13 issues to date, each one a full colour 44 pages (and including a colour 6×4 print), meat now sells across London, most notably in Tate Modern, Prowler Soho and London's oldest gay bookshop Gays The Word. It is also on sale in shops in New York, Chicago, San Francisco, Berlin, Paris and worldwide from the website meatzine.com
Two special issues featuring Francois Sagat, and another featuring the men of San Francisco have proved popular additions to the meat portfolio.
A tri-monthly club night to launch each issue at Vogue Fabrics in Dalston, London became an instant hit on the London scene in 2012 and in 2013 meat moved South of the river to the legendary Royal Vauxhall Tavern.
San Francisco based, singer-songwriter, friend of meat and meat SF cover star Matt Alber played a sold out concert at the June 13 launch of meat SF, with the after party tunes provided by special guest DJ Jim Stanton of Horse Meat Disco.
Working these parties under the moniker 'the meat boys' has turned publisher Adrian and fellow party organiser Fannar Gudmundsson into sort after party dj's who have recently played at Truck in San Francisco (to launch meat SF) and Dalston Superstore (for Little Gay Brother).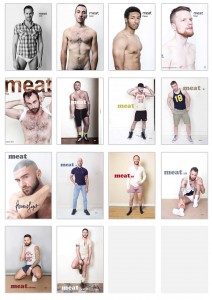 Other notable guests at the meat launch parties have been Wes db (Recon), John Sizzle (Grizzle, Gay Bingo), Ma Butcher (Gay Bingo), David Sqeaky (Tutti Frutti) and The Sugalow Boys (Songs of Praise).
meat is unique. Each issue features regular guys in their own clothes (and without them!) and the images are un-retouched. meat is for everyone, singles out no one, and truly celebrates the diversity of (extra)ordinary men.
"It's a great showcase for my personal work and doesn't have any other purpose than to be visually interesting and a cool thing to collect," says Adrian.
If you're a fan of hot regular guys, underpants, tube socks, sportswear, beards, bears, hipsters and cubs-next-door meat is for you.