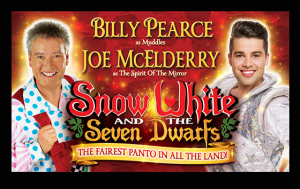 Yes, the clocks have just sprung forward announcing the start of spring. The daffs are out and the cherry blossom is in full bloom. The sun has peaked through the clouds and we are all optimistic for a glorious summer so, of course, our thoughts must turn to… Christmas and panto time.
Bradford Alhambra, long being the standard bearer for all that is good about pantos, has signed up that loveable pop prince, Joe McElderry for this year's spectacular production of Snow White and the Seven Dwarfs.
Thankfully, he hasn't been cast in the lead role or as one of those mini-miners but we would suspect that the quality of the songs (and singing) will be reaching new heights. Meanwhile, the comedy comes from the Prince of Bradford panto and King of comedy, Billy Pearce, who returns to the Alhambra Theatre by popular demand for his sixteenth pantomime season.
X Factor and Popstar to Opera Star winner, Joe McElderry, with his 24-carat voice and diamond personality, joins Billy as The Spirit of the Mirror, advising The Wicked Queen with the charm which has won him the affection of the nation.
With sensational special effects and comedy for all the family (it feels strange getting involved so easily when you're an adult but believe me… you won't regret it), Snow White and the Seven Dwarfs, West Yorkshire's biggest panto, will be a pantomime you won't want to miss!